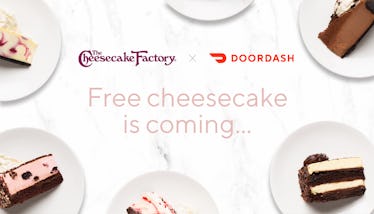 You Can Get Free Cheesecake From DoorDash In Honor Of The Cheesecake Factory's Birthday
Courtesy of DoorDash
I don't know about you, but I tend to go all out for birthdays, whether it's my BFF's, my own, or even my dog's. The best kinds of birthday celebrations, however, are spent eating lots and lots of cake. And to honor the Cheesecake Factory's 40th birthday in December 2018 (that's right — they've made it to the big 4-0!), DoorDash has a delicious deal. DoorDash's free cheesecake offer from The Cheesecake Factory is the tastiest celebration you could imagine. So, if that sounds up your alley, here's how to get in on the glorious celebration — you are very welcome.
On Friday, Nov. 30, DoorDash announced a seriously sweet deal that might honestly go down in freebie history. According to a press release, starting on Dec. 5 at 11:30 a.m. local time, DoorDash will be giving away 40,000 slices of free cheesecake to honor Cheesecake Factory's fourth decade of life. All you have to do is simply order your slice through their app or online. If you don't already have the app, it's available for both iOS and Android devices. Once you've selected your free piece of cake, just enter the code "FREESLICE" at checkout. Then, that gorgeous little slice of heaven will be all yours. I can already tell my week is going to be picture perfect.
Say what? This almost seems too good to be true. But alas, it's 100 percent real, and the best part is that you won't have to pay for any of it — not even a minimum. According to the press release, DoorDash will be waiving any and all delivery fees, service fees, and the subtotal minimum. So, you legitimately won't have to pay for anything at all, but you can still get the complimentary slice of cake (which usually goes for about $8.95!). Keep in mind that this is a limited-time offer, though, so you'll want to get in on it ASAP, because it will only be applicable while supplies last, per The Cheesecake Factory. While this deal seems relatively straight-forward, feel free to refer to the deal's "terms and conditions" for any additional questions you may think of.
Apparently, this isn't the first time that DoorDash has doled out free slices of Cheesecake Factory cheesecake. In fact, earlier this year in October 2018, the website and app offered one free slice of cheesecake for every $30 spent on the app. And even though it was a glorious deal (because who could pass up on a free slice of cake?) this deal is totally and utterly free, with no spending required. That is quite the bargain, if I've ever seen one.
To celebrate Cheesecake Factory (aka the holy land's) birthday, DoorDash is celebrating the right way, with a buttload (which amounts to about 40,000 slices) of cheesecake. And regardless if you decide to share yours — or if you're keeping it for yourself — it's probably the best deal you'll get in on all year, so make sure to snag yours at lightning speed. I'm counting on you.
Editor's note: This post has been updated to reflect that the deal begins at 11:30 a.m. local time on Dec. 5, and it is only available while supplies last.