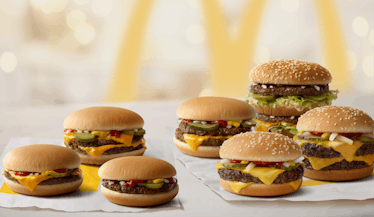 McDonald's Just Made This Welcome Change To The Burgers You Know & Love
When it comes to fast food, I immediately think of McDonald's. Whether it's the hot and fresh World Famous Fries or the classic Big Mac, McDonald's is definitely a go-to spot for on-the-go eats. You might think that opting for fast food means you're automatically eating something filled with ingredients you can't pronounce (or have never even heard of before), but that's not the case with Mickey D's most popular bites. In fact, McDonald's' seven classic burgers are now artificial preservative-free, so you can eat up knowing exactly what's in your favorite burger.
McDonald's announced the good news in a press release on Wednesday, Sept. 26. As part of the company's "food journey" that began in 2014, the latest news for burger-lovers is all about what's actually in the sandwiches that loyal McDonald's customers order so often. Per the release, the brand shared that "its classic burgers have no artificial preservatives, no artificial flavors and no added colors from artificial sources." There is one caveat when it comes to this welcome change, and that is that pickles on the burgers do still contain an artificial preservative.
So, you can skip the pickle to keep it totally free of artificial preservatives, or you can keep it on the sandwich for the classic taste that you've come to love. Either way, you'll still get the benefit of enjoying burgers with no artificial flavors and no added colors from artificial sources. TBH, that's enough for me to keep pulling into the drive-thru.
So, you might be wondering what menu items are included in the seven classic burgers that are all served sans artificial preservatives. Well, you're in luck, because most of McDonald's' classic options (including the Big Mac) have gotten this stripped-down upgrade. They are:
The hamburger
The cheeseburger
The double cheeseburger
The McDouble
The Quarter Pounder with Cheese
The Double Quarter Pounder with Cheese
The Big Mac
Um... I'll take one everything, please. Actually, I did get to taste most of these delicious options when I visited the McDonald's headquarters in Chicago, Illinois on Wednesday Sept. 26. At the headquarters' Hamburger University, aka the company's training facility, I was also able to see the different components of the classic burgers that are now free of artificial preservatives (except for the pickle), artificial flavors, and added colors from artificial sources.
Per the release, this overhaul was made possible when "preservatives were removed from [McDonald's'] real American Cheese, Big Mac Special Sauce, the regular Bun, Quarter-Pounder Bun and Big Mac Bun."
When it comes to the brand's American Cheese, what you get is a blend of real cheeses, including Cheddar and Colby, along with salt and cream, and what you wont get as of Wednesday's announcement is "sorbic acid, an artificial preservative." I get that the technical terms for the artificial preservatives might not be the most interesting part of this news, but the important thing to know is that those ingredients are no longer a part of your beloved classic burgers.
I mean, just take a look at what goes into the Big Mac Special Sauce. There are simple ingredients like a McDonald's specially-made mayonnaise and spices like paprika and turmeric to give it the reddish hue, but what you won't find are artificial preservatives like "sodium benzoate and calcium disodium EDTA."
It's free of stuff you can't pronounce and full of the flavor that you've come to expect with the Big Mac. Chris Kempczinski, McDonald's USA President, spoke in the press release about this announcement fits into McDonald's' food journey. He shared,
From switching to 100% fresh beef in our quarter-pound burgers, cooked right when ordered, to removing artificial preservatives in our Chicken McNuggets, and committing to cage-free eggs by 2025, we have made significant strides in evolving the quality of our food.
You might recall learning about the switch to 100-percent fresh beef on quarter-pound burgers in May 2018. Now, McDonald's has built upon that food journey with the Sept. 26 announcement of removing certain ingredients from its classic burgers.
When it comes to these changes, the chain is doing it all for the customer, according to what Linda VanGosen, McDonald's Vice President of Menu Innovation, shared in the release. Per VanGosen,
We understand that now more than ever, people care about their food – where it comes from, what goes into it and how it is prepared – and we are committed to make changes to our menu our guests feel good about.
So, the next time you get a rumble in your stomach, and McDonald's is calling your name, you can pop on over to your closest location to enjoy whichever of the newly improved classic burgers strikes your fancy. You'll quell that craving, and you'll know exactly what you're eating while you do it. Sounds like a delicious win-win situation to me.