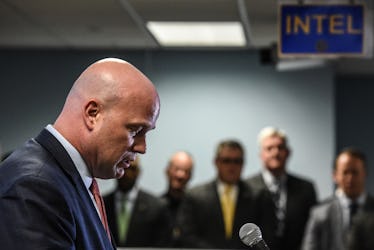 Trump's New Attorney General's Reported Stance On Abortion Is So Troubling
Stephanie Keith/Getty Images News/Getty Images
Over the past few years, it seems like anti-abortion initiatives have been popping up more and more across the nation. Even though reproductive rights activists and other concerned citizens have tried to fight these initiatives, there's still a lot to be done to ensure abortion rights will be respected. Sadly, Matthew Whitaker's reported comments on abortion are definitely not the step in the right direction. I don't think I'm alone when I say, yikes.
On Monday, Nov. 26, The Guardian reported that Donald Trump's acting attorney general, Matthew Whitaker, reportedly advocates for anti-abortion policies that could seriously impact the future for women's reproductive rights. According to The Guardian, Whitaker, a conservative Christian, has endorsed "personhood" bills, which protect the "life" of unborn fetuses and could effectively outlaw women seeking abortions. In addition, he reportedly said in 2014 while running for Iowa Senate that he plans to take these anti-abortion policies straight to Washington, D.C. Elite Daily reached out to the U.S. Department of Justice for comment on Whitaker's reported views, but did not hear back in time for publication.
The Guardian has also reported that while Whitaker was serving as a federal prosecutor, he said that he "personally disagreed" with using a clinic protection law, which protects both the facility and those entering the facility from bodily harm or injury, to protect a man who reportedly drove his car into a women's health facility and and allegedly attempted to set it on fire while protesting abortion. Clearly Whitaker's reported comments are troubling for numerous reasons, but perhaps the most concerning is that his reported views reflect an even more anti-abortion stance than his predecessor, former Attorney General Jeff Sessions, who in his time as a U.S. senator voted in favor of numerous bills to restrict abortion access, according to OnTheIssues.org.
As the new acting attorney general, Whitaker's stance on abortion could mean that the fight to protect women's reproductive rights is about to get even more difficult. Adrienne Kimmell, the vice president of NARAL Pro-Choice America, spoke to The Guardian about the repercussions of Trump and Whitaker working together. She said,
This administration is putting people in positions of power, with the ability to impact policies that have massive consequences for women and families, who hold anti-choice, dangerous beliefs that undermine women's lives and ability to access reproductive healthcare.
Of course, maintaining pro-choice policies has been a difficult battle throughout history, but now that the November midterm elections have finished, this issue could become even more crucial.
During the November midterms, three anti-abortion bills appeared in West Virginia, Oregon, and Alabama. While Oregon residents struck down the anti-choice initiative, voters in West Virginia and Alabama passed their respective anti-abortion measures. In West Virginia, Amendment One, also known as "No Constitutional Right to Abortion Amendment," ensured that the constitution is not required to secure, protect, or fund abortions except in cases of rape, incest, or threat to the mother's life. For Alabama, Amendment Two is a bit more severe because it "recognized and supported the sanctity of unborn life and rights to an unborn child," per the bill. So, in the case that Roe v. Wade is overturned, this passed bill could mean that women could be denied abortions effective immediately.
Once news broke that West Virginia and Alabama had passed the anti-choice bills, Dr. Brandi Shah, a board member with Physicians for Reproductive Health, told Elite Daily on Nov. 7 that Alabama's extreme ballot measure represents one step closer to denying women access to abortions all together.
"For Alabama, it's putting us one step closer to banning abortion," Shah, who recently moved to Alabama from Washington state, says. "We're in a situation where Roe v. Wade could be overturned. That's a lot scarier than it was before."
With West Virginia and Alabama passing these bills and Whitaker's problematic reported views on abortion, it's never been more important to stand up and speak out. Here's to fighting for the future.