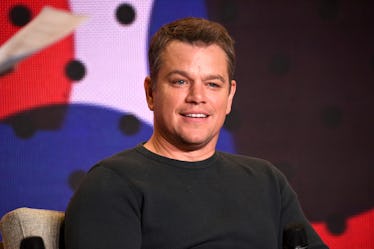 Matt Damon Was Low-Key In 'Thor: Ragnarok' & You Definitely Missed It
Kevin Winter/Getty Images Entertainment/Getty Images
Matt Damon is officially part of the Marvel Cinematic Universe, but you may have missed his character's big debut in Thor: Ragnarok. That's right — Damon managed to Jason Bourne his way into one of the biggest movies of the year without many moviegoers even recognizing him in the part. And the crazy part is that Damon wasn't hiding in the background or wearing some crazy mask or something; his part actually involved him being up on a stage with all eyes on him. So, did you manage to catch Matt Damon's cameo in Thor: Ragnarok?
The big moment came at the beginning of the movie, when Thor returned to Asgard and found his father Odin behaving very out-of-character. As fans who saw Thor: The Dark World knew and Thor was quick to figure out, it was actually Loki disguised as Odin. In his kingly disguise, Loki erected a huge statue of himself outside the Asgardian palace and even commissioned a play to commemorate his supposed death. And that's where Matt Damon comes in, along with two other A-list cameos: Sam Neill and Luke Hemsworth.
In the brief and totally silly play within the movie, we see Matt Damon dressed up as Loki, alongside Chris Hemsworth's brother Luke as Thor and Sam Neill as their father Odin. Damon, Hemsworth, and Neill get to go full dinner theater with a handful of melodramatic lines before the curtains close and we move onto the main plot of the movie. Although the three stars get solid screen-time, their Asgardian wigs may get in the way of some fans actually recognizing them right away.
Of course, the cameos were just a bit of frivolous fun that director Taika Waititi threw into the movie to lighten things up at the start, and it was thanks to both Waititi and star Chris Hemsworth that Ragnarok was able to pull in these heavy-hitters for such a small part. Obviously, Hemsworth was able to pull his brother Luke into the bit, and he also convinced his friend Matt Damon to sign on for the part, according to the Hollywood Reporter. As for Sam Neill, the veteran actor has worked closely with Waititi recently, having starred in his 2016 film Hunt for the Wilderpeople. He also famously costarred with Jeff Goldblum, another Thor: Ragnarok star, in Jurassic Park, although the two don't share any scenes in the new movie.
Even though the teams that work on these Marvel movies have thousands of universe-changing secrets that they have to keep under wraps until the movie comes out, this bit of stunt casting was apparently the biggest secret the Thor: Ragnarok writers and producers had to keep hidden for months. Screenwriter Eric Pearson told the Hollywood Reporter that he didn't find out about the casting decision until this July, and was informed to keep it completely hush-hush.
It was one of those, 'Don't tell your wife. You cannot tell anyone.' [Marvel exec] Brad [Winderbaum] took me over to the side, and showed me the picture [of Damon] in full costume and I lost my mind.
And they all did a great job keeping that secret, because everyone seeing Thor: Ragnarok has been shocked to see Matt Damon pop up in Asgard, and some even watch the whole movie without realizing they saw him.
I guess the question now is whether or not we're going to see these Asgardian actors come back in any other Marvel movies. I won't spoil the ending of Thor: Ragnarok in case you haven't seen it yet, but let's just say Asgard ends up much worse off than where it was at the movie's beginning, so Damon, Hemsworth, and Neill's characters may not have been able to stick around for an encore performance in another Thor movie. But then again, you never know with these movies.