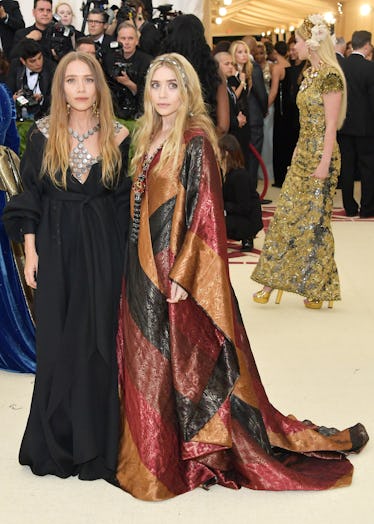 Mary Kate & Ashley Finally Walked The Red Carpet & They're Basically GOT Characters
Neilson Barnard/Getty Images Entertainment/Getty Images
Once upon a time, in an era known as the 1990s, Mary-Kate and Ashley Olsen were two of the most famous people on the planet. Since their childhood stardom days, the twins have taken to the fashion industry. The twins' ready-to-wear line, The Row, has been successfully showing at fashion week since the mid-aughts, and the twins themselves make a point in not stepping out on the red carpet, except for the Met Gala. They're not really a pair to hit the theme all that hard though, and Mary Kate & Ashley Olsen's 2018 Met Gala looks this year are no exception.
At this point, one could even argue that Elizabeth Olsen is the most famous of the Olson family, and would be more deserving of a Met Gala Red Carpet invitation, due to her status as a superhero and part of the Avengers team that tried to take down Thanos the other week, and instead ended up knocking over a bunch of box office records instead.
But the fashion industry has become her older sisters' domain since leaving the acting world, and they are happy to allow Elizabeth to have an acting career as long as she doesn't show up to their events. (One assumes that Vision is also blackballed, because they're not big fans of that gauche jewel in his forehead. I mean, do you see Paul Bettany there tonight? The prosecution rests.)
As for these outfits, Mary-Kate and Ashley have regularly been part of the "theme rejecting" crowd. They have a look. It's bohemian, it's long, it's billowy, it's comfortable, and they're not going to change it up because Anna Wintour decided that this year we're all dressing like the pope. Last year they were accidentally on theme because it was bohemian and they match that, but that was a fluke, and clearly not one they planned to repeat.
Instead what we got was a pair of gowns that looked like they stepped out of Westeros. On the left, we have something that looks like it comes from Cersei's Perpetual Mourning line, the sort of thing for the low cut occasion, like when you need to seduce a pirate Greyjoy to do your bidding, but still want to look like your entire heart is broken because all your pesky kids were done in and out of the way so you could beat Daenerys Targaryen to the punch on that whole "First Queen of the Andals" deal.
One the right, we have something that definitely belongs in the Cersei Maternity Wear collection. As everyone in the Seven Kingdoms is obviously aware, Cersei Lannister, First of Her Name is expecting, though no one has actually said aloud who the father is. (It's OK everyone knows.) That means that her perpetual mourning cycle should be coming to an end soon, especially once the Night King has taken down all her enemies and then somehow vanished in a puff of logic and left King's Landing alone.
All that being said, it's great to see the Olsen twins making a public appearance like this. The Met Gala isn't referred to as the "Fashion World's Oscars" for nothing, and this is one of the most elite red carpets of the season.
The fact is, these outfits really do feel like something they already had in their closets, but is that really such an insult? I personally would love to be able to open my closet of Westeros themed designs and throw any old comfortable caftan on and head out to one of the biggest red carpets of the year. Because every year should be a Game of Thrones-themed year, and because Holiday In The Sun is a classic.