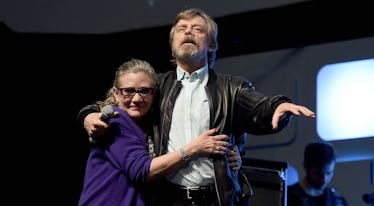 Mark Hamill's Tribute To Carrie Fisher One Year After Her Death Is So, So Emotional
Ben A. Pruchnie/Getty Images
When it comes to celebrity deaths, nothing compared to 2016. Last year really saw the loss of more high-profile actors and musicians than any year in recent memory, and one of the most upsetting was the death of Carrie Fisher right at the very end of the year. Now, one year later, Fisher's death is still just as painful for fans, family, and friends as ever. Mark Hamill's tribute to Carrie Fisher on the one-year anniversary of her death perfectly encapsulates how we all feel.
At exactly midnight on Dec. 27, Mark Hamill took to Twitter to memorialize his longtime co-star and friend Carrie Fisher on the one-year anniversary of her death. Fisher died at age 60 on Dec. 27, 2016 after being hospitalized four days earlier due to a medical emergency on a flight from London to Los Angeles.
Hamill played opposite Fisher in the decades-spanning Star Wars franchise as brother and sister Luke Skywalker and Leia Organa. Fisher's on-screen brother commemorated the anniversary of her death by sharing the hopeful message "No one's ever really gone," along with three pictures of Fisher through the years: one of Hamill and Fisher when they first met while filming the initial Star Wars films in their 20s, one of Hamill and Fisher working on this year's Star Wars: The Last Jedi right before her death, and finally, a drawing showing off Fisher's lovingly irreverent humor that also includes her famous dog, Gary. The drawing of Fisher and Gary was done by artist Lindsay Vanek, and is available for purchase here.
The statement that Mark Hamill posted has an especially poignant meaning for Star Wars fans. "No one's ever really gone" is Luke Skywalker's last line to General Leia in the newly released Star Wars: The Last Jedi. Luke says it to Leia both to assure her that her son Kylo Ren hasn't been fully lost to the dark side, and to give her a keepsake to remember her lost lover Han Solo. The line also referenced the ability of fallen Jedi like Yoda and Obi-Wan Kenobi to reappear as Force ghosts, and it took on a meta meaning since Carrie Fisher had died before The Last Jedi hit theaters.
The anniversary of Carrie Fisher's death is hitting fans especially hard since they just saw one of her final on-screen performances in Star Wars: The Last Jedi, which was released a couple of weeks before this somber anniversary. Fisher died shortly after wrapping her filming for The Last Jedi, so it marks the final time that Leia Organa will appear in the Star Wars saga. As the credits begin to roll at the end of the new movie, director Rian Johnson included a dedication to Fisher, which reads: "In loving memory of our Princess, Carrie Fisher."
Though The Last Jedi marks Carrie Fisher's last appearance in a galaxy far, far away, her final film role ever is actually still tied up in post-production — the upcoming fantasy drama Wonderwell was filmed before Fisher's death, but still has not landed on a release date yet. Fisher's voice was also used posthumously in three episodes of Family Guy in 2017, reprising her series-recurring role of Angela, and she appeared in the Season 3 finale of the British dramedy Catastrophe this year, reprising her role as Rob's mother, Mia.
In the Star Wars universe, Carrie Fisher's legacy will always live on. Now, her daughter Billie Lourd is also a part of the intergalactic saga, joining the new trilogy of films in the small part of Kaydel Ko Connix, one of the leaders of Leia's Resistance. And fans can be sure both Leia and Carrie Fisher will continue to shape the beloved film saga, as well as the cast who loved her.