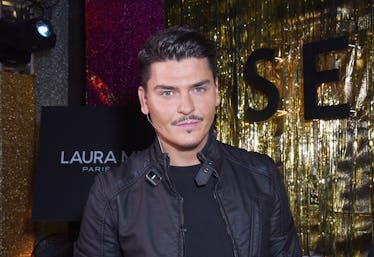 Mario Dedivanovic Reveals The Winter Beauty Trends He Thinks Will Be Unstoppable — EXCLUSIVE
Presley Ann/Getty Images Entertainment/Getty Images
Winter is coming. In fact, it's pretty much already here if you ask me, someone who was born and raised in the South and who breaks out her coat the minute temps hit below 65 degrees. However, if you thought winter's impending arrival meant beauty trends would immediately take a turn for the dark, dreary, and lifeless, that's where you're wrong my friend. If you don't believe me, believe Mario Dedivanovic, Laura Mercier Celebrity Makeup Artist Ambassador, who revealed to Elite Daily the winter beauty trends he anticipates will be unstoppable this season.
For all fans of the bold, the bright, and the sparkly out there, you can rejoice, as Dedivanovic says these themes will carry on well into the winter. "We are going to see a lot more color, glitter, and shimmers," Dedivanovic tells me. "People love having fun with makeup, especially during the holidays."
Considering shimmery makeup never fails to have a solid moment around the holiday season, I can't say the renowned makeup artist is wrong. But if you needed any more proof, let it be known the autumn/winter 2018 runways were jam-packed with bright colors, bold designs, and a healthy amount of glittering faces, so it only makes sense these trends would continue having their time in the spotlight.
Dedivanovic tells me two of his favorite products when it comes to adding a bit of glitter and shimmer to a look are Laura Mercier's Caviar Stick Eye Colour ($29, Laura Mercier), an easy-to-apply, long-wear eyeshadow stick that gives the perfect stand-out shimmer, and Lemonhead LA's Spacepaste ($22, Lemonhead LA), a glitter paste that packs so much shine, but without all the stickiness and/or fallout most other glitter products have. (A GREAT choice, if you ask me. No, seriously, I'd marry this stuff if I could.)
"I carry the Lemonhead Spacepaste in my kit for when I want to add a touch of glitter to the eyelid because it doesn't make a mess," he says. "I also always have the Laura Mercier Caviar Stick Eye Colour (my favorite shade is 'Sugarfrost') on hand. It is the easiest way to add shimmer to the eyelid and can also be used to highlight the brow bone or inner corner!"
Now, while you're planning your glitter looks for the various holiday parties you're hitting up this month, don't forget to prep your skin for the occasions as well. If you need to revamp your skin routine, Dedivanovic also reveals the skincare trend he anticipates will take over these darker days: glass skin. If you're unfamiliar with the glass skin phenomenon, it began as a K-beauty trend in which the goal is to achieve a glowy, lit-from-within type of complexion — in other words, as if your skin resembles glass.
"Glass skin is becoming more popular and is one of my favorite trends right now. I love an illuminated complexion — it looks the most natural while also giving a subtle glow to the face," says Dedivanovic. "One of my go-to products for glass skin is the Laura Mercier Tinted Moisturizer Illuminating. It not only illuminates and enhances the skin but can be used instead of a heavy foundation to create a glowing complexion."
Just because the beauty trends we all saw thrive in the summer and fall aren't necessarily changing all that much in the winter, that doesn't mean your skincare routine shouldn't change either, especially when dry, cracked skin is looming at every corner. Luckily, Dedivanovic also tells me the trick for transitioning your skincare regime to accommodate the colder weather.
"It is all about keeping your skin hydrated and well moisturized, especially during the winter when the air is dry. I recommend looking for products that help hydrate the skin or under eyes," he says. "For example, the Laura Mercier Flawless Fusion Ultra-Longwear Concealer ($28, Laura Mercier) is great during the winter. It helps hydrate the skin or under eye throughout the day, giving the skin a natural finish — plus it will not settle into fine lines!"
Dedivanovic continues that dry winter weather may warrant a switch to a tinted moisturizer for your skin, though he suggests opting for a slightly darker shade than your actual skin tone in the winter "to add some warmth and hydration."
While winter may bring with it dry weather and darker days, rest assured in Dedivanovic's professional opinion that the brighter makeup and skincare trends you loved in the summer aren't going anywhere anytime soon. Shine on, fam.