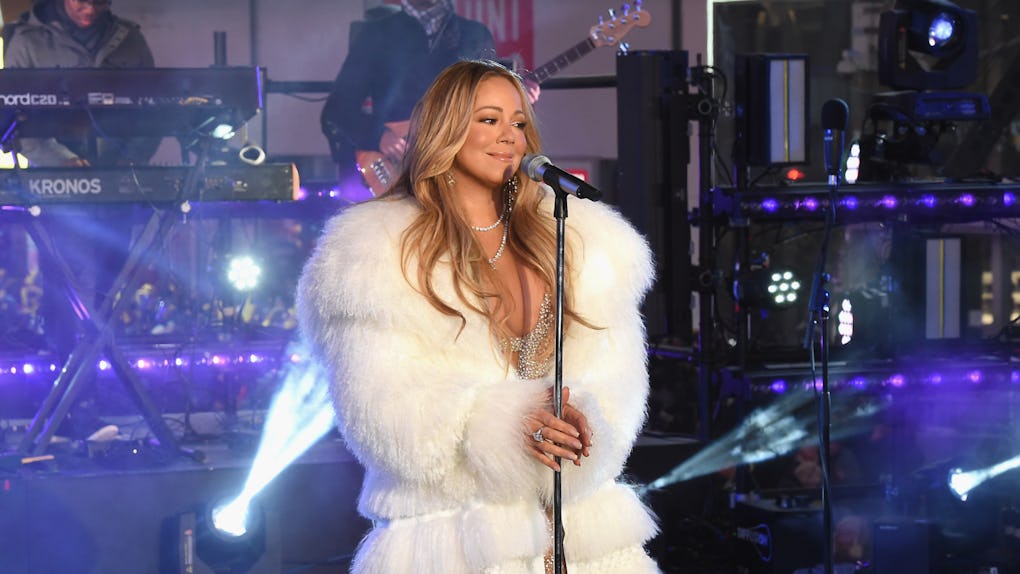 Nicholas Hunt/Getty Images Entertainment/Getty Images
Mariah Carey's Tweet About The "If You Don't Love Me At" Meme Is Absolutely Perfect
Memes aren't built to last, but we sure do love them anyway. People may have been starting to get bored of the most recent iteration, the then-and-now photo comparisons on social media — and then Mimi came along. Mariah Carey's "If You Don't Love Me At" meme is absolutely perfect and has set Twitter on fire.
If you haven't logged on to Twitter for three months, this latest trending meme goes like this: You post an unflattering photo of the subject (either yourself or a public figure, usually), next to the most fantastic photo that possibly exists of that person, with the caption, "if you don't love me at my _, you don't deserve me at my _." The meme is a riff of a rumored Marilyn Monroe quote, per Inverse, in which she supposedly said, "I'm selfish, impatient, and a little insecure. I make mistakes, I am out of control, and at times hard to handle. But if you can't handle me at my worst, then you sure as hell don't deserve me at my best." (Elle magazine reported that there's no evidence Monroe ever said those words so, ¯\_(ツ)_/¯). The meme has been circulating on social media for weeks, with the words "worst" and "best" replaced by the corresponding photos.
But now we can all quit, because Mariah Carey just won everything. On Sunday, April 8, Carey tweeted the meme as a photo of her iconic role as Ms. Weiss in Precious beside the album cover for her 2005 record The Emancipation of Mimi, and people were not ready for it.
It's also worth noting that yeah, maybe she's not all "glowed up" in the photo from the 2009 film, but she still looks amazing. Even when she's playing the part of a homely social worker from 30 years ago, it's still Mariah-f*cking-Carey — with less makeup.
She came. She saw. She conquered.
It's not clear what prompted Carey to meme herself on this quiet Sunday afternoon, but she did it with the grace befitting the "Elusive Chanteuse" that she is.
Carey is reportedly back in the studio working on her first full-length record since 2014's Me. I am Mariah ... the Elusive Chanteuse.
Is she trying to tell us something?
In her decades-long musical career, Carey has reinvented herself more than once — most notably with the very album she meme'd, The Emancipation of Mimi, in 2005. The album kickstarted a version of Mariah Carey for a new generation of listeners with a fresh new sound and image.
Could she be trying to covertly hint at a future career in comedy? I, for one, am comfortable being the only person wishing for this to happen.
We're lucky she remains on social media at all.
After her New Year's Eve production mishap in 2016, she told Entertainment Weekly that she was "humiliated" by the whole ordeal. She came out to perform her set, she said, but could not hear herself.
"I'm going to take a break from social-media moments, although I will fulfill my professional obligations," she said in a tweet following the incident. " It's time for me to finally take a moment for myself and be with loved ones and prepare for my upcoming tour in March."
Lucky for us all, that social media break has ended. Now, it seems like she's more than earned her seat at the table of meme-making.
I mean, look at this angel. Using hashtags and everything.
The 48-year-old pop star has clearly had The Emancipation of Mimi on her mind, lately. In March, she tweeted about the anniversary of her single "We Belong Together," saying, "#TBT #HappyAnniversaryWBT When you left I lost a part of me, It's still so hard to believe, Come back baby please, 'Cause..."
She even retweeted a Billboard highlight reel during Women's History Month, which gives the casual Carey-consumer a healthy overview of her massive career.
We all stan for Mariah Carey, indeed, Billboard. And without a doubt, Sunday, April 8, will go down as the day The Emancipation of Mimi became "The Emancipation of Meme."