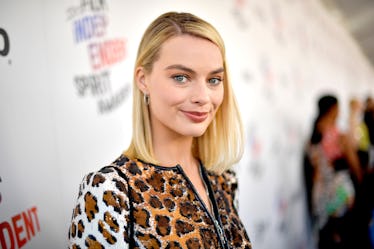 Margot Robbie Has A Shakespeare Series Coming & It's The Feminist Show We All Need
Matt Winkelmeyer/Getty Images Entertainment/Getty Images
William Shakespeare and his works were actually quite ahead of their times. While the writing legend's plays and sonnets may often be associated with a dusty, antiquated Elizabethan age, some of Shakespeare's female characters were total pioneers among the era's typical literature. Determined to highlight these feminist traits of Shakespeare's canon, Margot Robbie has a Shakespeare series coming, and it won't exactly be like your high school reading of Hamlet. Robbie's new project will focus on some of the playwright's classic stories from new female perspectives, and I'm already jealous of people taking English classes when this show debuts.
To add to that long list of stars you didn't know had production companies, Robbie has her own called LuckyChap Entertainment. For this Shakespeare endeavor, her company is partnering with ABC International Studios and enlisting an all-female creative team to launch a modern series centering on the famed works. With production and filming taking place in Robbie's native Australia later this year, the series will consist of 10 standalone episodes that tell a Shakespeare story from a woman's POV. Deadline reports that the series will also focus on different Australian cultures and areas. Robbie will executive produce the series, while creator Giula Sandler will write at least one episode. Um, can I send out invites for my viewing party now?
Keli Lee, managing director of ABC Studios International, said in a statement:
This production is a chance to create something classic yet boldly original and modern. The works of Shakespeare are iconic and this will present them in a way they've never been seen before.
In its own statement, LuckyChap said:
We are thrilled about this Australian partnership as an opportunity to showcase unique, distinctly female voices in writing, and to demonstrate the high quality of the Australian film and television industry. The project will share diverse points of view, from writers representing the different cultures and areas within Australia, which many would not readily associate with works of Shakespeare.
One look at Shakespeare's plays makes it obvious that his protagonists are almost all male, and many involve women who only emphasize how restricted they are in Shakespeare's patriarchal society. Who doesn't automatically think of the ill-fated Juliet when considering the Shakespearean woman? However, other fictional women, such as Lady Macbeth in Macbeth, reject the nurturing, reserved mold that their contemporaries followed and present themselves as ambitious people who go after what they want. Essentially, many of Shakespeare's female characters are actually bada**es.
This isn't the first time ABC has tried out a Shakespeare-inspired project. In the summer of 2017, Shonda Rhimes produced the period drama Still Star-Crossed. The short-lived series explored what happens to Rosaline, Romeo's first love, after both he and Juliet die, and it was canceled after the first season aired. If you've seen any of The CW show Reign, Still Star-Crossed looked like a bit of a knockoff series.
Of course, PBS always welcomes highly acclaimed theater productions of Shakespeare's plays, but when it comes to drawing in the ratings, these aren't the most successful. With both Robbie's name and the ABC brand on it, this new Shakespeare series could finally bring these stories to a more mainstream TV audience. What a time to be an English nerd, guys!
Speaking to the Australian Associated Press, Robbie said of her involvement in the series:
I'm taking a lot of meetings with the lesser-known talent at the moment, the indie filmmakers, first- and second-time filmmakers, mainly women. I'm in a lovely position where I can actually help get things greenlit so I want to work with people who we haven't seen yet.
There are no details about where or when this series will air, but while we wait for more news about it, I'll be making my shortlist of which Shakespeare plays the show should adapt.