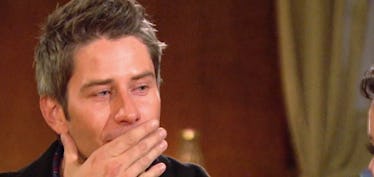 A 'Bachelor' Contestant Just Returned To The Show & No One Expected It
ABC
Last week, Bachelor contestant Maquel left the show in a hurry after finding out via a phone call from home that her grandfather had passed away. It was a heartbreaking scene to watch, and Bachelor Nation was left to wonder whether or not the the 23-year-old Utah-based wedding photographer was gone for good. Now that episode 5 of Season 22 is here, we finally have our answer: Maquel Returns To 'The Bachelor and I am SO here for it!
A quick refresher since a whole week has passed: Maquel is the blonde beauty who rolled up to the mansion in a race car and electric blue gown on the very first night. She basically had Arie's attention all revved up right from the get-go, but she seriously won my heart over back in Week 3, when she turned down the sex appeal and upped her like-ability factor by hilariously vibing out as a lunch lady for the Gorgeous Ladies of The Bachelor wrestling group date. Otherwise known as GLOB.
Then sadly, it seemed that Maquel's time on the show was abruptly cut short. But this week, when the girls are just chilling in a Ft. Lauderdale hotel room during their group trip to sunny florida, Maquel suddenly bursts back onto the scene and, not gonna lie, the other ladies looked more excited to see her then they did when it was actually Arie coming through the door.
Also, is it just me? Or did Maquel look a lot like Lauren Busnell with her hair up in a bun during that scene?
Nope, not just me.
Although, I do kind of agree with this tweeter, too:
Whoever you think she looks like, Maquel came in like a breath of fresh air — all bubbly and adorable despite the fact that she clearly did not get the "bikini-top-and-jean-shorts" memo — and now I'm totally rooting for her. She doesn't get the one-on-one date, though — that already went to Chelsea. Instead, she gets to channel the incomparable Michelle Pfeiffer's Stephanie Zanoni in Grease 2 on the group bowling date.
You just know Arie's been having some "Cool Rider" fantasies, right? I mean, this whole date is completely bizarre, but totally fits with the way this season has been playing out, so I'm gonna just go with it. Plus Arie kind of reminds me of the dude who played Michelle Pfeiffer's love interest in that movie. His character's name was completely escaping me, but it turns out it was Michael so thank you, Twitter.
Anyway, Maquel gets stuck on the blue team with Hurricane Krystal. But at least their crew ends up winning so yay for silver linings. Sadly, the ladies did not band together to break into a rousing group rendition of "We're Gonna Score Tonight" before leaving the bowling alley, so minus 10 points because that was a major missed opp.
And minus another 10, because Maquel did not even get the group date rose, Lauren did.
Meanwhile, ever since Bekah M. revealed her age to be 22 last week, fans have been kind of freaking out on social media because Maquel is only 23 and, like, no one ever talks about it.
Your math is spot-on, Nikki. And it's a really good question. Even Bekah herself felt the need to weigh in about all the age ridiculousness.
Preach, woman! Seriously, though, what's your damage, Arie? Bekah and Maquel may only be in their early 20s but you don't see them throwing tamper tantrums the way, say, someone like Krystal does.
Anyway, Maquel, I'm glad you're back. Just don't forget to check the dress code next week, mmkay?