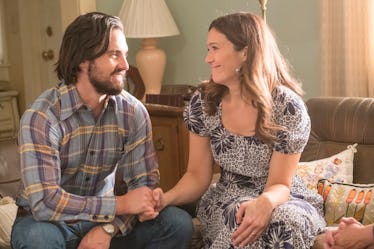 Mandy Moore Shared A 'This Is Us' Season 3 Photo Of Her & Jack & My Heart Can't Take It
NBC
I'm still weeping over the Emmys snubbing Mandy Moore from its list of nominees, but in the true fashion of a hardworking actress, Moore is keeping busy with the start of This Is Us Season 3 production. We only know the barebone details of what the new season will cover — Jack's Vietnam days, how Toby falls back into depression, and possibly who Future Randall and Tess are going to see — but Moore just dropped a sweet hint of what we'll see in Season 3's first episode. Mandy Moore shared a This Is Us Season 3 photo of Rebecca and Jack, and my heart is swooning already.
Despite fans' strong belief that her portrayal of a newly widowed Rebecca would score her an Emmy nomination this year, Moore's name was absent from the Television Academy's roster of nominees this month. The snub was heartbreaking news for viewers who will endlessly praise Rebecca's reaction to Jack's dead body, but the This Is Us cast have brand new stories on their plates. According to Moore's social media, the work on Season 3's first episode recently wrapped, and it seems to include a flashback to Rebecca and Jack's early days as a couple.
Moore shared a behind-the-scenes look at the characters in Episode 1 on Instagram, showing Rebecca in her signature hat and a barefaced Jack sitting next to her. The background of the photo resembles a carnival, and if this isn't Jack and Rebecca's first date, then I'll simply have to assume it's their attempts at an album cover for their new indie record.
Alongside the photo, Moore wrote:
Episode 1 in the can for Jack and Bec. So grateful to be back at it.
Moore has previously talked about the third season's plans to explore Rebecca and Jack's origin story, of which we caught the very beginning in the Season 1 finale. Both ditched their dates, and while Rebecca did so to sing at a gig, Jack chose robbing a bar over showing up at his blind date. Rebecca's singing distracted him from his mission, but viewers never saw the two actually speak to each other. Could Season 3 finally show us that very first conversation between Mama and Papa Pearson?
Milo Ventimiglia has also shared some photographic insight into the new season's first episode. He posted a photo of himself in a car facing the camera crew and only with his eyes visible in the rearview mirror. We can't tell for certain if Jack is beardless in the shot, but he does seem to have the long and loose hairstyle that 1970s Jack favors. Is this Jack driving to pick up Rebecca for their first date?
No matter which direction the first episode takes, the cast has already assured their followers that it'll be a tearjerker. Both Moore and Chrissy Metz revealed that their first reactions to Episode 1's script involved a range of heavy emotions. Seeing as any scene focusing on Rebecca and Jack's connection has me reaching for the tissues without flaw, it seems this hint just emphasizes the theory that the episode focuses on their first outing together.
As for following episodes, it looks like we'll also see more of Kevin's awkward relationship with Miguel as Season 3 progresses. This Is Us writer Kay Oyegun shared her own behind-the-scenes photo of Justin Hartley and Jon Huertas looking reflective and incredibly distant from each other in a scene together. The season may focus more on Jack and Rebecca as a couple, but I'm eager for more clues about how Rebecca and Miguel eventually became a couple.
Until there's more clarification about Rebecca's present-day relationships, I don't think anyone is complaining about traveling back to time to visit Rebecca and Jack's glory days. Do I sense another "Moonshadow" singalong coming our way soon?
Season 3 of This Is Us premieres on Tuesday, Sept. 25, at 9 p.m. ET on NBC.