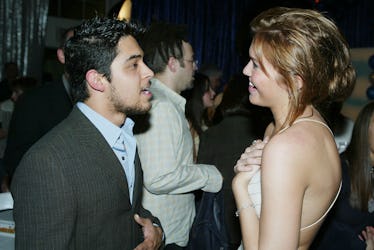 Mandy Moore Claims Wilmer Valderrama Lied About Having Sex With Her As A Teen
Kevin Winter/Getty Images Entertainment/Getty Images
Close your eyes and imagine you're a teenager in your first real relationship. And it's actually a good, healthy, happy relationship! You trust your partner and your partner trusts you back. OK, now imagine that ex claims in a public interview that he took your virginity. Well, that nightmare scenario was reportedly Mandy Moore's reality 12 years ago. In a recent interview with Howard Stern, Mandy Moore claims Wilmer Valderrama lied about having sex with her on Howard's show over a decade ago. Elite Daily reached out to Moore and Valderrama's teams for comment on the report but did not hear back by the time of publication.
For those of you who don't remember, before Moore was engaged to Dawes frontman Taylor Goldsmith and before Valderrama was Demi Lovato's famed ex, the two were a couple. And they were a cute one at that.
But after they broke up, Valderrama, now 38, claimed he took her virginity.
In an interview with Howard Stern in 2006, Valderrama claimed that he was the first person Moore ever slept with. "The sex with Mandy was good, but it wasn't like warm apple pie," he told Stern in the interview. So incredibly gross.
Now, 12 years later, Moore is finally here to clear the air on those bold claims her ex made. In an interview with Stern on SiriusXM's The Howard Stern Show on June 6, Moore said hearing the interview left her "very" hurt.
"He did not [take my virginity]. I dated him when I was 16 and 17 … I loved him and I still love him. He's a very good friend and that's why I was so shocked by it because, not only was it a fib, but it was so unlike him and so uncharacteristic," Moore said. "I met him at a photoshoot for, like, some teen magazine literally when I was 15. I was [pretty innocent]. Again, like never french-kissed a boy. He was like my first real, true boyfriend."
This isn't the first time she's addressed the subject. Shortly after Valderrama made those comments in 2006, Moore told Elle that his words were "utterly tacky, not even true, and it hurt my feelings because I like him."
She was so hurt that she reportedly decided to call him out on the phone. "I remember in the moment he tried to explain it away and in the moment he sort of did get caught up and, like, he maybe insinuated more than outright said it. And I was like, 'No, you outright said it,'" she recalled to Stern of her confrontation with Valderrama. "But also I was like, 'Yeah, why would you ever talk about that to anybody and lie about it?'"
I'm with you, Mandy. Doesn't make sense.
While I would probably shun someone who betrayed me for the rest of my life, Moore seems to be a far more forgiving person. In fact, other than lamenting about his one transgression, she mostly just had positive things to say about her ex.
"We don't talk about it today. I moved past it now. We're not that close, but we're friendly. We have some mutual friends," Moore told Stern. "We'll see each other around every now and then. He came to my house a couple months ago. I had some friends over. He's a good guy, he really is."
OK, I guess everyone makes mistakes. Even the good guys.
One of the reasons Moore is so easily able to move on from Valderrama could be the fact that she has totally and completely moved on from that relationship. In fact, as I mentioned earlier, she's now engaged to Goldsmith, who she seems to be madly in love with.
"We went out to this sushi restaurant. It was lovely, in a tiny part of town I'd never been in before," she told Stern of her first date with her now-fiancé. "And we had this epic, three-hour long dinner where we just didn't stop talking." From there, the two lovebirds couldn't stay away from each other. "And then he left to go on tour the next day and we just emailed and texted and FaceTimed back and forth for like six weeks until we could see each other again," she continued.
Congrats to Moore on her upcoming marriage and cheers to her being a far more forgiving and understanding person than I'll ever be!
Check out the "Best of Elite Daily" stream in the Bustle App for more stories just like this!