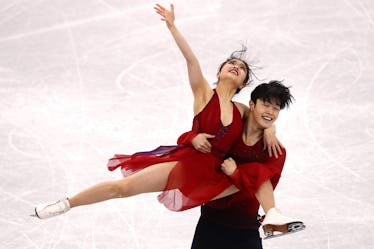 This Is The Cardio Training Maia Shibutani Does Off The Olympic Ice & It Looks So Fun
Dean Mouhtaropoulos/Getty Images Sport/Getty Images
If you've been following the Winter Olympics this year, you know that the Shibutani twins — aka the "Shib sibs" — have been killin' it in the figure skating competitions. Honestly, their intricately choreographed ice dancing routines look like so much fun, and as it turns out, Maia Shibutani's cardio workout that she does to prepare for the competition seems like a blast, too. Seriously guys, I kind of want to try it out myself.
Keeping up with with the Shibutanis (new reality TV show idea, anyone?) has truly been a treat this year, especially when it came to watching their free dance routine, in which the two athletes beautifully skated, twirled, and leaped to "Paradise" by Coldplay. Tears, people. Tears. But how the heck do they acquire all of that grace, skill, and precision — on ice, no less?
As far as Maia Shibutani's training regimen goes, she's all about that cardio. SELF reports that, before she flew to PyeongChang for the Winter Olympics, the female half of the Shib-sib duo spent some time training at Dogpound, a popular gym in New York City.
Shibutani was spotted doing an awesome cardio-interval exercise at Dogpound called "the lateral slide." It honestly looks as cool as it sounds.
In the above video (posted to Dogpound's Instagram), Shibutani can be seen going back and forth atop a slide board to the tune of "Love Lockdown" by Kanye West. (TBH, as amazing as "Paradise" was for their routine, that song also would have been absolutely amazing for the duo to skate to, but I digress.)
Anyway, I'm going to go ahead and guess that you, much like myself before writing this article, have no idea what a "lateral slide" is. According to LIVESTRONG.com, the move is both a serious muscle-strengthener and a heart-pumping cardio workout — a perfect combo not just for skaters looking to refine their techniques off the ice, but even for us regular peeps who literally just want some general coordination and balance, ya feel me?
Seriously though, how freaking fun does that slide board look? It kind of reminds me of those automatic conveyor belts they have at airports for when you're too lazy to walk all the way to your gate. (OK, obviously Maia Shibutani's doing a lot of hard work, but I just had to throw that comparison out there. Please don't hate me.)
If you're sitting there wondering how this entertaining exercise helps Shibutani wow her audience during her ice dancing routines with her brother, Raphael Konforti, a certified personal trainer and the national director of fitness at Youfit Health Clubs, explains why the workout is so effective. He told SELF,
The slide board challenges you to move laterally, or side to side, as opposed to most typical exercises like lunges that have you moving forward and back.
If you never train your body to move laterally, there's a greater chance something will go wrong on the few times you do.
This exercise also helps with making quick movements in all directions out on the ice. No wonder the Shib sibs are so great at what they do — lateral movements FTW.
But the real key to Maia's outstanding success, in both her workouts and in her sport, isn't found simply in the effectiveness of her training, but rather her inspiring and motivational mindset.
In an interview with the site ONE X WONDER, an online platform that celebrates female athletes, Shibutani said her biggest workout tip for non-athletes is to find a workout that you genuinely enjoy. She told the site that it's easy to follow fitness trends like cycling or yoga, but you ultimately have to do what works for you, which will create motivation and lead to an even better workout. She explained,
It's hard to always put aside time to work out, but I don't think working out should be a chore. It's a choice to be heathy, so use your time and energy the best way you can.
Amen, sister. Now, can someone get me up on one of those lateral slide boards? 'Cause, I don't know about you, but that's one workout that looks totally worthwhile and beyond enjoyable to me.
Erin Jackson is an inline skating world medalist and roller derby MVP. She dreamed of skating in the Olympics, but to do that, she had to get on ice. She took her first steps on a long-track course in 2016 and started training professionally in September 2017. Four months later, she qualified for the Olympic Winter Games. Check out Elite Daily Insights' video on Jackson's incredible story: