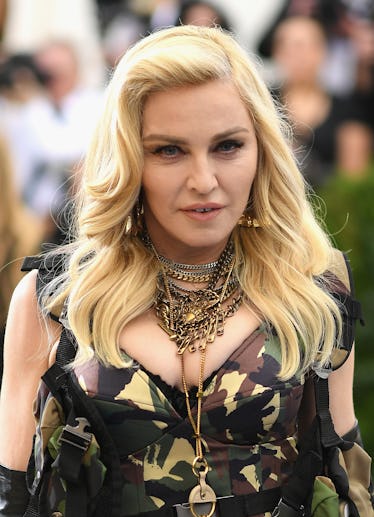 Madonna Just Broke Her Silence On Her Aretha Franklin VMAs "Tribute" That Had Fans Pissed
Dimitrios Kambouris/Getty Images Entertainment/Getty Images
Madonna has something to say about that unfortunate Aretha Franklin "tribute" she gave at the 2018 MTV Video Music Awards. And nobody is here for it. The legendary singer received loads of backlash for honoring the late Franklin with anecdotes that were mostly about herself. Needless to say, everyone's social media timelines have been bombarded with negative opinions about Madonna's appearance at the VMAs. And Madonna's response to backlash over her Aretha Franklin "tribute" doesn't make any of it better.
Madonna took to Instagram to post a photo of herself and Camila Cabello, who won the Video of the Year and Artist of the Year awards at the 2018 VMAs. Madonna presented Cabello with her award and posted on Instagram about it.
"Im with the Winner!! The beautiful @camila_cabello ! So proud of her! 🌈💕🎉," Madonna wrote.
She also took the opportunity to clarify her intention in giving a really problematic tribute to Aretha Franklin, who passed away on Aug. 16.
Here's what Madonna had to say about the Franklin tribute she gave:
And just to clarify: I was asked to present video of the year by MTV! And then they asked me to share any anecdotes I had in my career connected to Aretha Franklin! I shared a part of my journey and thanked Aretha for inspiring me along the way. I did not intend to do a tribute to her! That would be impossible in 2 minutes with all the noise and tinsel of an award show. I could never do her justice in this context or environment. Unfortunately most people have short attention spans, and are so quick to judge. I love Aretha! R.E.S.P.E.C.T. 🙏🏼. I Love Camilla! Congrats! I LOVE my dress! AND. I love-L O V E!! ♥️ and there is nothing anyone can say or do that will change that.
So, apparently, the fact that Madonna's tribute speech went downhill is the audience's fault for having "short attention spans."
This is part of what Madonna said during her speech:
Aretha Louise Franklin changed the course of my life. I left Detroit when I was 18. Thirty-five dollars in my pocket. My dream was to make it as a professional dancer. After years of struggling and being broke, I decided to go to auditions for musical theater … And then one day, a French disco sensation was looking for backup singers and dancers for his world tour … The dance audition went well. Then they asked me if I had sheet music and a song prepared. I panicked. I had overlooked this important part of the audition process. I had to think fast. My next meal was on the line. Fortunately, one of my favorite albums was Lady Soul by Aretha Franklin. I blurted out, "You make me feel." Silence. "You make me feel like a natural woman."
Madonna spent some minutes talking about the humble beginnings of her career and closed out her speech with this:
So. You are probably all wondering why I am telling you this story. There is a connection, because none of this would have happened, could have happened, without our lady of soul. She lead me to where I am today. And I know she influenced so many people in this house tonight. In this room tonight. And I want to thank you, Aretha, for empowering all of us. R-e-s-p-e-c-t. Long live the queen.
So, it was all about Madonna rather than about Franklin. If her response to all the backlash she's received is any indication, she likely doesn't see anything wrong with the speech she gave. Yikes.