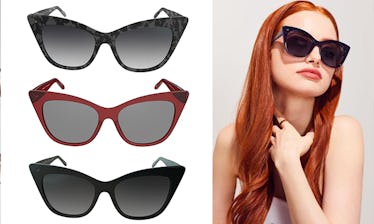 Madelaine Petsch Designed A Line Of Cheryl Blossom-Inspired Sunnies & They're Cute AF
Prive Revaux
Madelaine Petsch plays Cheryl Blossom on Riverdale, the very grown-up teenager known for her signature red lip, evolved sense of fashion, and ice-queen persona. As a full-blown adult, I'm so thankful the comic-turned-TV show wasn't around when I was in high school — I'd be running from class to class with red lipstick on my teeth, wearing broaches that feel more old-lady than rich-girl cool, and calling my classmates pet names like "darling," or something. Because Petsch's character is completely muse-worthy, there's now a pair of Madelaine Petsch's "Cheryl Blossom" sunglasses available to be added to your closet of Riverdale-inspired outfits.
The 23-year-old actress teamed up with the popular accessories brand Privé Revaux to launch a handful of trendy sunglass frame styles, including one designed especially with Cheryl Blossom in mind. The sunglasses, named "Mister," ($30; priverevaux.com) are just what you'd expect the high-school character to wear with her sophosticated ensembles. They're cat-eye shaped (obviously) with super dark, oversized lenses (you know, just like all the shade she's constantly throwing), and a translucent frame to contrast. Also available in frame colors black and grey tortoise, the cherry red colorway was specifically designed just for Blossom, clearly inspired by her lipstick and mostly red wardrobe.
The real Madelaine Petsch even took to Instagram to share the sunnies inspired by her on-screen character. She posted a photo of herself wearing the frames, paired with a green dress, which perfectly contrasts her sunglasses and naturally red hair. The caption reads, "in honor of Cheryl, meet the new color of Mister frames from my sunglass line in cherry red 🍒 link in bio 🍒," and the comments are a mix of compliments for Petsch and Blossom, all of which are lovng the sunglasses on her.
But if you've considered yourself more of a Betty or a Veronica than a Cheryl, you're in luck, because Petsch actually helped design a collection of five styles. If a red cat-eye frame isn't exactly your thing, you have four other sunglasses to choose from, and they're really good. Madelaine's collaborated frame styles include rounded retro frames called "Street," small colorful lenses called "Candy," classic square styles called "Clique," and aviators called "Rogue," aside from her oversized cat-eye frames called "Mister."
I'm actually so obsessed with these Candy Sunglasses ($30; priverevaux.com) also from Madelaine Petsch's capsule collection. Available in this yellow and rose gold option, as well as pink, black, red, and purple, there's a pair for every outfit style you'll be rocking this summer.
If these are a little too Smells Like Teen Spirit for you, try a more mod take on sunglasses with this pair called "Street" ($30; priverevaux.com). They're also available in black an rose gold, aside from the red ones Madelaine is wearing below.
I never thought I'd be interested in a pair of bright yellow sunnies, but these are actually so cute. The black versions are already sold out, but Clique ($30; priverevaux.com) are still available in burgundy and the yellow I'm kind of feeling.
And lastly, Rogue ($30; priverevaux.com) are probably my favorite of the entire bunch. Classy and timeless, with a twist, these frames are what you need to channel your inner badass. I'm especially loving how Petsch paired her black-on-black look with a deep red lip, slicked back wet-looking hair and tons of attitude. I'm thinking I need to get me some of these.
The collection has been on sale since April, but as you can see, some of the limited-edition styles have already sold out. Whether you're channeling Cheryl Blossom, Betty Cooper, or Veronica Lodge, get your hands on the Privé Revaux x Madelaine styles before they're all gone.