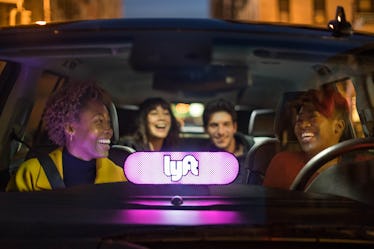 Lyft Is Testing A Subscription Service & You Won't Be Charged Per Ride Anymore
I don't know about you, but my life totally changed with the invention of ride sharing companies. They definitely make getting around a little easier (and more affordable) with conveniences like carpooling, fare splits, and the ability to easily pay your fare within an app. Well, one company is attempting to further streamline the process of getting a ride. Lyft is testing a subscription service, and it could make your life so much easier if you're a frequent user.
Currently, you're used to hailing a ride on the Lyft app and then paying for that ride once you've gotten to your destination. According to The Verge, frequent Lyft riders have been receiving offers to join Lyft's all-access plan that would have you pay a set cost to cover all of your rides for the month (similar to monthly plans you already have like Netflix and Spotify). While the cost and terms vary, it appears that one of the all-access passes offered a deal of up to 30 standard rides for $199. From the description of the pass, though, it appears that this would only cover rides that cost up to $15.
Apparently, other monthly offers range from $300 for 30 standard rides to $399 for 60 rides. Engadget reported that they received a weekly offer of $49 for up to seven rides (if the rides are under $15). It was not apparent to users what the cost would be or how they would pay for rides exceeding $15, per The Verge.
It appears that there is no set amount for one all-access pass, and CNET reported that Lyft has been testing this monthly subscription-style service for a few months. If you haven't seen any offers from Lyft in your inbox, then it might be because of the frequency with which you use the app. Per The Verge, it appears that all-access passes are targeted toward Lyft users who spend around $450 a month on Lyft rides, since those are the users who could likely see more savings with the prepaid monthly subscription. If you're a super casual Lyft rider, then that's probably why you aren't seeing the plan options.
Don't fret if you haven't gotten your exclusive all-access pass invite, though, because CNET reported that a Lyft spokesperson spoke about the testing of the monthly subscription and said, "We're always testing new ways to provide passengers the most affordable and flexible transportation options." Even though you might not benefit from an all-access pass right now, you can still look forward to the other plans Lyft has for the future since CNET reported that Logan Green, Lyft CEO, referred to transitioning Lyft into a subscription service as "the ideal scenario."
Looking even further into the future, Lyft announced a partnership with Magna on Wednesday, March 14. Per the release, Magna is "a mobility technology company and one of the world's largest automotive suppliers." With this new partnership, Lyft and Magna plan to develop "self-driving systems." Furthermore, there are plans to use the created self-driving systems in the Lyft network throughout the coming years. So, even if you haven't gotten an all-access pass yet, you can look ahead to when you take your first driverless Lyft ride. (BRB, I'm gonna go think about that for a little bit.)
OK, I'm firmly back in a world where Lyft still uses drivers — and it's a good thing they do because St. Patrick's Day is right around the corner. All-access pass or not, you're likely going to need a Lyft ride this St. Paddy's day weekend (thanks to green beer). In an email from the company, Lyft revealed some data about a common occurrence that can happen pretty much any weekend: the Irish Goodbye. If you're not familiar with the phrase, Lyft explained that an Irish Goodbye is "when a person discreetly leaves a bar, party, or dinner without telling anyone."
Basically, it's what happens when your friends dip out without giving you a heads up. It turns out, according to Lyft's data, that three out of four people have a friend who is constantly pulling the Irish Goodbye. If that's you or if you plan to partake in an Irish Goodbye to celebrate the holiday on March 17, Lyft suggests the best times for a quick exit are 8 p.m. and 11 p.m. Alternatively, avoid heading out around 7 p.m. if you want a stealthy exit. Finally, Lyft suggests scheduling your ride to ensure a smooth getaway.
Of course, you shouldn't totally abandon your friends without any indication. So, make sure you send a text or call your BFF once you leave, or tell at least one of your besties that you're headed out so people don't worry about you.
Whether you're trying out your exclusive monthly all-access pass from Lyft or you're simply putting some Irish Goodbye tips to good use this weekend, you can count on a Lyft ride to get you where you need to be.