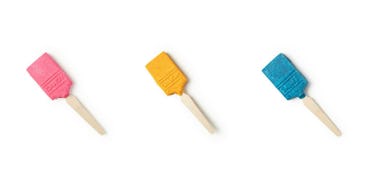 Childhood, Is That You? Lush Bubble Bars Let You Draw In The Tub To Make The Water A Work Of Art
Lush
If the company didn't already have you hooked to their products, then Lush's Bubble Brush Bars will definitely do the trick. Coming in three sweet-smelling flavors — Candy, Lemon, and Mint — these treats, which are basically like bath bombs 2.0, will give you the same effect as a fizzing bath bomb being plopped into warm water, but can be reused time and time again! Placed on a biodegradable wooden stick, which means you'll be able to hold onto the product as you run it under the water, the Bubble Brushes will create a colorful oasis for you to unwind in, all while generating zero waste. Sounds like a win-win to me! Just remember to dry the bar in between uses to get the most of out it.
And if you want an excuse to get a little extra soaking time, the product can also be used as a literal brush to draw fun designs into your bath bubbles, which sounds like so much fun, it may leave you in the tub for hours on end. And as with most products from the Lush line, each Bubble Brush is free of synthetic preservatives, made using natural vegan ingredients, and never tested on animals.
Now it's let into the nitty gritty of each brush!
Holding onto the wooden handle, run the Lemon Bubble Brush under the tap for a few moments to invigorate your senses with the satisfying scents of lemon, lime, and orange. Once your tub has been filled up, splash the water around to create luxurious bubbles. Then take a dip and let your skin soak in the goodness of lime and sweet wild orange oil.
If the smell of cotton candy tends to ease your mind, then the Candy Bubble Brush is perfect for you. With cream of tartar as one of the main ingredients, this bar will give you tons of frothy, pink suds to soak in.
Peppermint oil — which has been proven to treat hair loss, according to Healthline — gives the Mint Bubble Brush a nice cooling effect. But if you're looking to soak in a nice, calming bath, then this bar can definitely offer you just that.
Now if you're the type of adult who's still just a big kid at heart, Lush also has another new Bubble Bar in stock that will give you the best of both worlds when it comes to bath time nostalgia. The I'm Forever Blowing Bubbles Bar creates nice, frothy suds, much like the other bars, but comes in the shape of those old school bubble wands, which means you can soak in the tub while also blowing bubbles just like when you were a kid! The best part is that this particular bar is packed with Sicilian Lemon Oil, which Lush explained is used for its "astringent and cleansing properties." I'm Forever Blowing Bubbles also includes other powerful ingredients in its formula as well, including grapefruit oil, glycerine, and lime oil.
While these bars seem like they're amazing to use after a long day, what I love most as a conscious beauty shopper is that not only are they affordable, but they give you everything a normal bubble bath product would — plus a little extra fun — without all the plastic packaging.