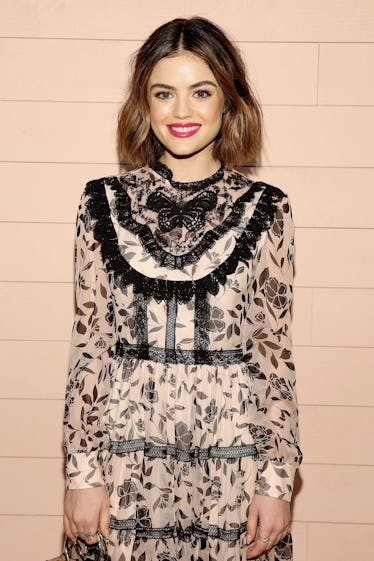 Lucy Hale Just Revealed If She'd Be Down To Star In 'The Perfectionists' – EXCLUSIVE
Monica Schipper/Getty Images Entertainment/Getty Images
Lucy Hale is many things. Obviously, she's an amazing actress, finding breakout success playing Aria Montgomery on Freeform's Pretty Little Liars for seven years until its final season in 2017. But she's much more than the roles she plays on your television screen. Compassionate, intelligent, and funny as hell, Lucy Hale is not just a pretty face (though, I assure you, she's that too). While speaking with her, it felt more like I was catching up with an old friend rather than an award-winning actress. Naturally, one of the first subjects to come up was centered around a question many fans have been dying to know: Will Lucy Hale be in The Perfectionists? I've been wondering if Hale would have a role on the upcoming Pretty Little Liars spinoff, and luckily, I got to hear Hale's response first-hand — and it's pretty hopeful news for fans.
When it comes to the show that helped make Lucy Hale a household name, she says that she'll remain forever thankful for the exposure she received as Aria Montgomery. "I have so much to be grateful for because of that show," she tells me in an exclusive interview for Elite Daily. "It opened up a lot of doors for my career, so I will always be respectful of that and always want to be involved in any way I can."
She wants to be involved in any way she can, huh? Does that mean there's a possibility Hale will play a role in The Perfectionists? Hale says there's nothing in the works — yet. "I don't know how my character would fit into that world, but maybe!" Hale adds that if the opportunity does arise, she wouldn't say no. "I'm obviously down."
Who do we have to speak to to make this a thing? I think I speak on behalf of everyone when I say we'd all welcome Aria back into our lives wholeheartedly.
And with Hale's love for Pretty Little Liars also comes an enduring love for her former castmates from the show. Actually, Hale's fellow Pretty Little Liars alumna Ashley Benson will be directing an episode of The Perfectionists and Hale tells me that, although she hasn't spoken with Benson recently, she's excited to see what she does with her directorial debut.
"I actually haven't seen Ashley, but I did hear she's going to direct, which I think is super cool," she tells me. "I always respect people who really go for it and take a leap and do something new. I talk with Sasha [Pieterse] and Janel [Parrish] occasionally, but I don't quite know when they're filming or what the show is about — but I'm definitely rooting for all of them."
Everything works out the way it's supposed to. You just kind of have to not take yourself or life too seriously and go with the flow.
When I tell Hale that I was rooting for her in her role as Stella Abbott on the CW's Life Sentence, a series about a 20-something who finds out that she's cured after being told her cancer was terminal, we talk about the how the short-lived show told a really beautiful story.
Premiering on March 7, 2018, Life Sentence sadly didn't perform up to the network's standards, and, after just 13 episodes, the series came to an end. Hale took to Twitter to share the unfortunate news:
Seeing just how emotionally connected to the show she was, Hale tells me what was going through her head after Life Sentence's cancellation, and how she feels looking back on the experience now.
"I've been doing this since I was 15, and I've been a part of shows that have gotten canceled, so I was familiar with that feeling of being really let down," Hale said. But, she also revealed that because Pretty Little Liars' massive success, her sadness also felt somewhat unfamiliar at the same time.
"If anything, it was like a very humbling reminder that some things just don't work out and it only makes me appreciate things that do work out," Hale tells me. "I obviously was heartbroken over it, because I loved the story, and I thought it was a really beautiful story that needed to be told... I was really upset about it for a while and now being on the other side of it, I'm like, 'Oh, if that hadn't happened, I wouldn't be able to do the things that are currently happening now.' Everything works out the way it's supposed to. You just kind of have to not take yourself or life too seriously and go with the flow."
One of those opportunities might be Hale's partnership with Honey Nut Cheerios' Good Rewards program, where Hale, actor Michael B. Jordan, and NFL player Rob Gronkowski act as team captains. Each team captain has chosen a charity that's close to their heart, and every box of Honey Nut Cheerios gives families a chance to choose which team gets their vote.
"I grew up with Honey Nut Cheerios," Hale reminisces. "It was in my household, and it was sort of a staple for me. So to be involved with them... I'm very aware of the amazing work that they do, so it seemed like a really good partnership." Hale's charity of choice? The American Society for the Prevention of Cruelty to Animals, because of her compassion and love for animals. "I just think it's really important to give a voice to animals that don't necessarily have one," she says.
When asked if she was a fan of her opponent Michael B. Jordan, Hale quickly exclaimed, "Oh my God, of course!" (Apparently, even celebrities can still geek out over other celebrities.) "He's like, the biggest actor right now... and obviously him getting involved with the program shows that he's got a massive heart... and I really respect him giving back."
While she considers Michael B. Jordan to have a kind heart, it's clear to me that Hale herself does, too. She tells me about her most recent tattoos that pay homage to an important person in her life. "I just got another one with my grandmother's handwriting, which is pretty special," and another, a quote from Atticus Poetry, "Love her but leave her wild," which she tells me might be her favorite tattoo to date. When I ask Hale what that quote meant to her, her response is beyond poignant. She says, "For me, it just means loving someone wholeheartedly but not controlling her, and letting her shine and let her be her best self without any restrictions. I heard it, and immediately thought, 'That's me. If i were a quote, that would be me.'"
Hale tells me that she has "more tattoos than [she knows] what to do with," but each one is special and tattooed on her skin with reason. "It's hard. With what I do, you always have to get them covered up, but they're little parts of me and what I love in my life at that time."
A small price to pay for something you'll cherish for your entire lifetime, if you ask me.
Just when I thought Hale's plate was full enough already, she reveals that she has two projects currently in the works that she can't talk about just yet. "I'd get in so much trouble," she says, laughing. But she does tell me that it feels pretty damn good to have all of these opportunities at her disposal. "It's just cool that I get to be picky to do what I want to do, and people are giving me the opportunity to tackle some pretty cool characters, so I'm excited," she says. "It's going to be a fun challenge."
Well, whatever those challenges may be, I have a pretty good feeling that Hale is totally up for it.