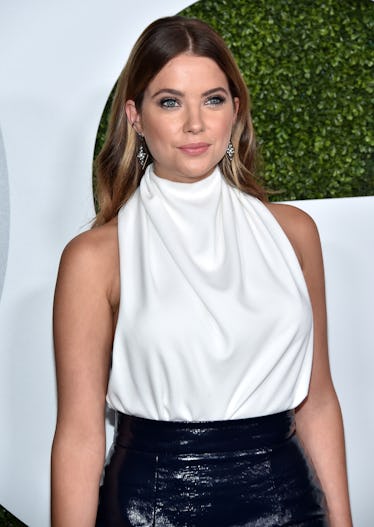 Ashley Benson Will Be On 'The Perfectionists,' But Not The Way You're Thinking – EXCLUSIVE
Mike Windle/Getty Images Entertainment/Getty Images
The stars are aligning for Ashley Benson right now. In just a few weeks' time, her latest project will be screening at the Toronto International Film Festival (TIFF). And that's just the beginning of a new and exciting career journey for the actress. In the coming months, she'll also be making her directorial debut as well as channeling her love of animals into a good cause. Even with all that going on, there's still a lot more to come, and fans of the actress' work on Pretty Little Liars are wondering one thing in particular: Will Ashley Benson be on The Perfectionists? Well, she's slated to be involved, but maybe not in the way you think!
Elite Daily caught up with Benson to chat about her new partnership with SmartyPaws for National Dog Day, and, of course, she dished some new details about the highly anticipated PLL spinoff, like that she's actually making her directorial debut on it! While Benson doesn't know all the details of the new show just yet, she is excited to, once again, be working with Marlene King, who was the mastermind behind PLL.
"It's going to be my first time directing; I'm very excited," Benson tells Elite Daily. "Marlene King is like my family. I talk to her almost every day. She's just given me this amazing opportunity to direct my first episode. So, I'm very excited."
But could we ever see Benson return to the PLL universe as her iconic character, Hanna Marin? Well, let's just say it's not out of the question. "I think I'm going to start out directing it and seeing what it's all about," Benson explains. "I mean, I would do anything for Marlene, so yeah, I think I would go with that."
Benson's new directing gig is all part of her plan to expand her skills and talents beyond acting. She even took some time away from work to settle into life beyond Pretty Little Liars.
"I took a little bit of time off to kind of get away from the industry a bit. I moved to New York," Benson says of the past year since Pretty Little Liars ended. "I wanted some time off after being on PLL for a long time."
Her year-long break from the entertainment industry proved to be fruitful. In that time, Benson has found passion and purpose in a new film called Her Smell. The film, which is scheduled to screen at TIFF on Sept. 9, stars Benson as a young musician whose naïveté leads her down a destructive path. The film boasts big names like Cara Delevingne, Amber Heard, and Elisabeth Moss.
"It's basically based on two girls' punk bands in the '90s," Benson says of the film. "Elisabeth Moss plays this hugely famous rock star and it kind of shows the ups and downs of fame: drugs, sex, rock and roll, that kind of thing. And I play in a band that's younger who kind of comes up and Lizzie [Moss] takes over the band and kind of makes us the new 'it' band that she kind of destroys through drugs and alcohol."
Although grittier than some of Benson's past projects, Her Smell was exactly what the actress was looking for post-PLL. "I obviously waited to pick a passion project and Her Smell was definitely one that I wanted to do," she says.
But waiting for the right project was about more than finding a character that truly spoke to her. It was about making strides in her career and figuring out what she wanted to do long-term.
"I wanted to work with great actors. I definitely wanted to do a film that would go to festivals and that's exactly what we're doing," she explains. "So, I'm kind of just diving more into that type of career. And also... I want to produce stuff. I'm working on creating some shows."
Needless to say, Benson is extremely busy these days. But that's not stopping her from putting some of her energy into her other passion: animals.
Benson is celebrating National Dog Day on Aug. 26 with Walter, her four-year-old Brussels Griffon, who stars alongside her in a new promo video for the launch of SmartyPaws. Smarty Paws is a new all-in-one supplement for dogs that boosts their overall health. And Benson is beyond passionate about giving her dogs (she also has a nine-year-old Maltese Shih Tzu named Olive) the best life possible.
Here's a look at the SmartyPaws video starring Benson and Walter:
"The one good thing about SmartyPaws is it's an all-in-one supplement that I can give my dog once a day," Benson said. "They have them for any dog, any size, any age. And, you know, it just kind of reassures you that your dog is healthy."
Another draw for the 28-year-old actress and dedicated pet parent is that SmartyPaws routinely works with The Humane Society. "When you buy a package they do make a donation to The Humane Society, which I really love that. I think it's so smart."
Well, I think every move you're making these days is smart, Ashley. Now, go direct that episode of The Perfectionists and report back with all the spoilers, 'kay? Thanks!