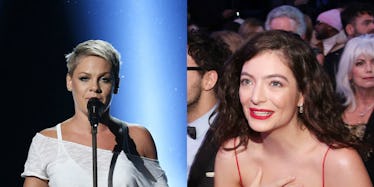 Fans Are Calling Out Lorde For Her Shady Response To Pink's Performance At The Grammys
Kevin Winter/Getty Images for NARAS // Christopher Polk/Getty Images for NARAS
The 2018 Grammys performances were filled with pretty stellar live performances, but the one everyone will be talking about tomorrow is probably Pink's. She took to the stage and performed a breathtaking rendition of her hit "Wild Hearts Can't be Broken," off her 2017 album Beautiful Trauma, and while everyone seemed to love it, Lorde's reaction to Pink's Grammys performance is getting called out.
Pink might have showed up to the Grammys and strut down the red carpet in a fancy pink and purple dress, but she stripped down for her live performance. The singer took the stage in a pair of simple jeans, no shoes, and a white shirt in solidarity with the Time's Up movement.
The last time Pink performed at the Grammys, back in 2014, she was all decked out and even suspended in the air. But not this time. This year, there were no frills and no over-the-top effects. Just Pink on the stage singing her heart out with an ASL interpreter on the stage. It was so beautiful, I cried a little.
But not everyone seemed so impressed.
Some people were shook when the camera panned over to Lorde only to find a rather unamused expression on her face. Well that and a weak-seeming clap. Twitter had to ask: what was going on?
Some people thought it was funny, and some called shade.
So what is Lorde's deal? It could be that Lorde is upset about her beef with the Grammys. Her album Melodrama was nominated for Album of the Year, but reportedly didn't have the opportunity to perform solo. She was the only woman nominated in the category, but reportedly was not given the opportunity to perform. In fact, before the show it was reported that Lorde might not attend the Grammys at all — a tweet from her mother that highlighted the discrepancy between how many women were nominated at the awards show versus the number of men hinted that the singer might think sexism was at the heart of the issue.
So it's a little understandable that maybe Lorde would be upset that Pink delivered a solo performance while she didn't? I don't want to say that is the reason, because maybe it isn't. We can't know what was in her head.
Let's give Lorde the benefit of the doubt, though. Maybe she was really happy for Pink but also sad for herself and couldn't help how her face looked. Or maybe, just maybe, that's how her face is. Maybe she got lost in thought thinking about how hungry she was? We won't really know, well until Twitter forces her to explain herself.
Although, some people on Twitter pointed out that Lorde did look excited after Rihanna's performance...
Maybe Lorde likes Rihanna better? Or maybe Pink's performance was too emotional for her? (To be fair, Rihanna's performance was way more of a banger, while Pink's was a little more in the vein of "I'm going to think through everything that has made me emotional in the past week and revisit it in my head.") Is it because Rihanna didn't perform solo either — she performed "Wild Thoughts" with DJ Khaled and Bryson Tiller, who are also a part of the hit. Who knows what is actually going on?
There was definitely a noticeable difference in how Lorde reacted to Pink and to Rihanna, and she should have known that the internet would be watching. The whole thing really just doesn't line up. But who am I to say? Maybe Lorde did have specific beef with Pink. Or maybe she was just wondering when the bar closed. There are a million possibilities. Feel free to draw your own conclusions and hopefully the internet answers it all for us soon!