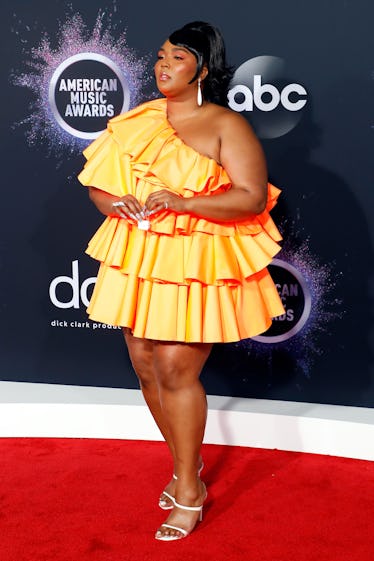 Lizzo Hilariously Revealed Exactly What's In Her Tiny Jacquemus Bag
Taylor Hill/FilmMagic/Getty Images
Tiny bags and Lizzo. Name a better duo, I'll wait. Sure, you may think that minuscule bags are impractical, but on Monday, the singer proved everyone wrong. In a TikTok posted on Monday Jan. 13, Lizzo showed exactly what's in her Jacquemus bag.
Like a true friend, Lizzo always has you covered. Do you need a pencil? Chips? Wine? A whole new outfit? Lizzo, beyond carrying the entire music and romcom-movie-trailer industries on her back, is carrying all of it in her bag that realistically couldn't hold an iPhone 6. It's called talent.
In the video, captioned, "YALL WANNA KNOW WHATS IN MY TINY BAG B*TCH? 😏" Lizzo wore a graphic, black-and-white body suit with a hot pink body harness over. She also sported her mini, lavender Jacquemus bag. When a friend asked her for a pencil, and she pulled one right out. With a little more digging, she also found a remote, a neon dress, and a whole wig. With some work, I'd bet Lizzo can pull out nearly anything she needs.
After stealing headlines at the 2019 AMAs with literally THE tiniest Valentino bag last year (apparently, only three of those bags even exist), Lizzo has been at the forefront of the tiny bag trend. Although she didn't bring home any physical awards that night, Lizzo won that runway, and her purse became a certified meme in minutes. Since, Bella Hadid, Dua Lipa, and Blake Lively (to name a few celebs) all have been seen gently holding their own Polly Pocket-sized purses.
How did we get here? Wasn't it moments ago that fanny packs were everywhere for function? When where we were going to put our water bottles mattered? The trend kicked off in 2017 when Simon Porte Jacquemus, of his self-named brand, debuted his "Le Chiquito" bag. Soon, Rihanna and Kim Kardashian were spotted toting them. Hermes, Gabriela Hearst, Marc Jacobs, Givenchy, Brandon Maxwell all quickly jumped on the trend for 2019 — though none as small as Jacquemus. But then, Jacquemus came out with the Mini Le Chiquito bag, known for only being able to hold one TicTac or a single Airpod.
Playing with size isn't new in the fashion world, so what is it that makes this tiny bag so special? Perhaps it's because microbags are the antithesis of streetwear. Streetwear was arguably the defining trend of the past two years featuring oversized everything and function over form. There is nothing functional or oversized about this newest trend. It is a pointedly luxury bag — the smaller the bag, the more it is just ornamentation. You could even argue that microbags are the new status symbol. "Oh, I don't have to carry my phone, sunglasses, mascara. My assistant will," screams the Tiny Bag. Unless, of course, you're Lizzo. She truly can do it all.