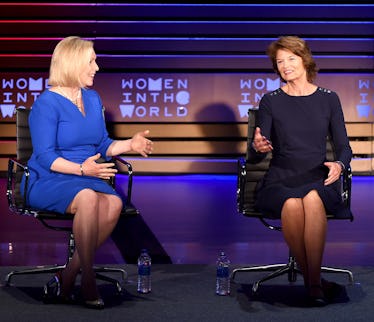 This Republican Senator Said If Congress Doesn't Act On Guns, "We Really Need To Self-Examine"
Nicholas Hunt/Getty Images Entertainment/Getty Images
At the Women in the World conference in New York City on Friday, April 13, Sens. Kirsten Gillibrand and Lisa Murkowski of New York and Alaska, respectively, sat down for a talk led by NBC's Andrea Mitchell. As part of a wide-ranging conversation, the senators discussed the motivated activism teenagers have been participating in on gun control. As a Republican, Sen. Murkowski's comments on the Parkland students' activism was particularly intriguing.
"I think it has been a significant wake-up call to those of us in the Congress," Murkowski said on Friday. "When you have a 16-year-old say, 'I'm afraid, and I'm the kid, and you're the adult — and you're the lawmaking adult, and we expect some action.' I think that if that doesn't motivate us to act, to come together for the good of these young people, really the good of the country, you know, maybe we really need to self-examine what we're doing."
This wave of gun control activism was prompted by a shooting at Marjory Stoneman Douglas High School in Parkland, Florida, where 17 students and educators were killed. Immediately after the shooting, the student survivors of Marjory Stoneman Douglas began calling for stricter gun control legislation. Their calls for action — and their continuing refusal to stay quiet — led to two major national moments of activism in March, including a national student walkout and the March For Our Lives.
The students have been critical of lawmakers for their predictable inaction on gun control, and they have particularly been critical of Republican lawmakers, who have primarily been against stricter gun laws. Sure enough, since the Parkland shooting, the Congress has not done anything on gun laws (although the Donald Trump administration has moved to ban bump stocks and Florida lawmakers have made some legislative changes).
Sen. Murkowski, while a Republican, has been a less conservative lawmaker. In fact, Gillibrand said onstage, Murkowski supported an anti-gun trafficking bill that Gillibrand introduced. (Gillibrand, a Democrat, has been progressive on gun laws.) "I think there's a lot of common ground," Gillibrand said about gun laws, adding that she hopes that action will be taken on laws. Gillibrand also praised the Parkland students, particularly noting "the fact that they feel so passionately, and the fact that they brought all of this together, so it's not just about white, privileged kids from the suburbs but African American kids from the inner cities."
Murkowski added that the current wave of gun control activism certainly has "momentum," and that it was impressive to see the student survivors' activism as it "helped with the healing, but also is an outlet for their expression."
This is not the first time that Murkowski has spoken about gun control. "We cannot have continued Congressional impasse where we have a tragedy happen, we all express our condolences, we then lock into our political stance and nothing is done until the next tragedy hits and then we express our outrage all over again," she said about a week after the Parkland shooting, per KTVA, a local Alaska news station. However, KTVA noted, she did not use the word "gun" in her comments the. She did, however, discuss the need for background checks and more help for people with mental illnesses.
Whether Congress will act on gun control remains to be seen. As evidenced by the wide-ranging discussion at Women in the World, the senators are dealing with a great variety of issues, including the ongoing nomination process of Mike Pompeo for Secretary of State, the possibility of the firing of Rod Rosenstein, decisions to be made about the U.S.'s actions (or inaction) in Syria, and fixing Congress' sexual harassment policies. It's certainly a good time to see what Congress considers to be its priorities.