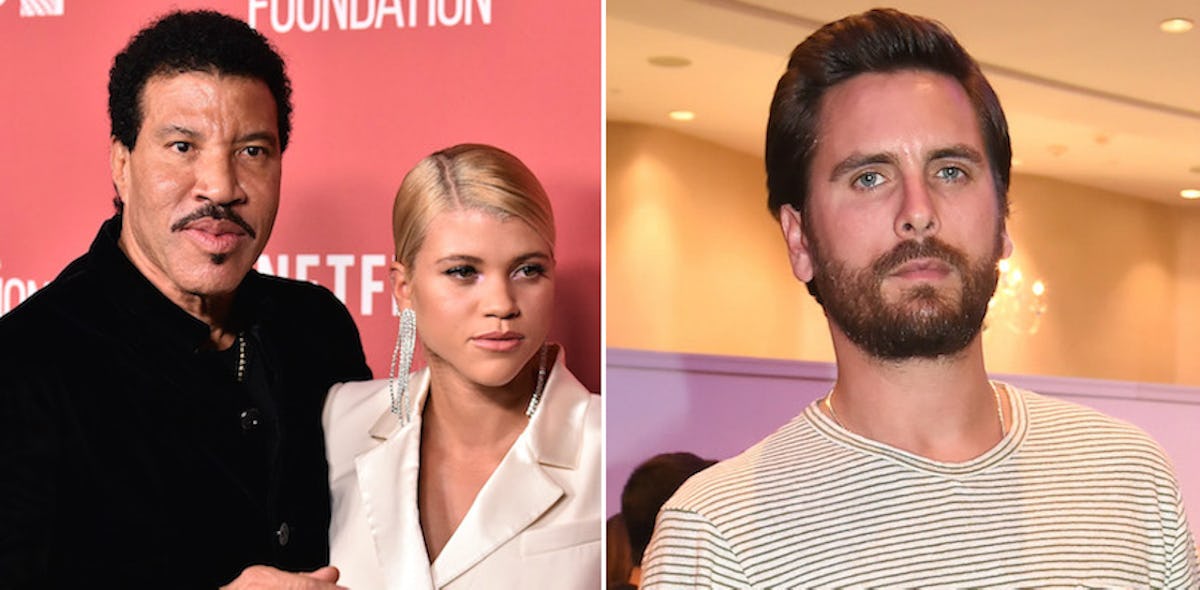 Sofia Richie's Dad Totally Dissed His Daughter's Relationship With Scott Disick
Frazer Harrison/Romain Maurice/Getty Images
Lionel Richie and Kendall Jenner could probably talk for hours about Scott Disick and Sofia Richie. Richie's famous father hasn't said much about his 19-year-old daughter's relationship with 34-year-old Disick, but when he has, he's made it clear he's not completely on board. Now, he's expressed his disapproval of the relationship again and it's not pretty. Lionel Richie's quote about Sofia Richie and Scott Disick dating will make you cringe. Richie told Daily Telegraph that he really doubts his daughter and Disick will be together forever, not even close. "It's just a phase," he said. "And I'm going to stand real still in the corner, get me a good drink and not make too much noise." He added,
Now I know what my parents meant when I came through the door with my Afro and my girlfriend and said, 'Dad, I'm in love.' My daughter is getting me back for my Afro days! She's 19. When you're 19, you know everything.
Yikes. This doesn't bode well for Scott Disick. Before this, Richie had spoken out about his daughter's relationship with the reality star just once. When asked how he felt about the two dating back in October 2017, he told Us Weekly, "Have I been in shock?! I'm the dad, come on … I'm scared to death, are you kidding me?"
So basically, Lionel Richie thinks Sofia Richie is going through a rebellious phase and has decided to just wait things out to see what happens. Got it.
Kris Jenner called Scott Disick out for the age difference between him and Richie on a recent episode of Keeping Up With The Kardashians. Disick went to New York Fashion Week with Jenner in the episode, and they also had a long talk about Disick's love life.
That's when the topic of their age difference came up. Jenner asked if Disick was dating anyone, and when he said yes, she asked if he was dating just one person. (She knew what answer she was trying to get out of him.) When he said yes again, Jenner asked if he was dating Sofia Richie. Disick confirmed, and then Jenner asked, "Wait, so how old is she? Because I really don't know. Is she Kylie's age? Twenty?" After saying Richie is 19, Jenner started talking about the age difference that existed between her and Robert Kardashian. "So I was 17," she said, "and Robert was, well 12 years older." Disick was quick to note that Jenner was underage when she started dating Kardashian and Richie isn't, and Jenner admitted she couldn't really argue much after that.
Disick is 15 years older than Richie, who is one year younger than Kylie Jenner. Richie actually used to be close friends with Kylie and Kendall Jenner.
But that doesn't seem to be the case anymore, given the fact that Kendall Jenner threw massive shade at Disick and Richie on Instagram recently. A Kardashian fan Instagram account posted a photo of Scott Disick driving with Sofia Richie in the front seat and one of his kids in the back (it's not clear which of his children it is, and it's also not clear if there are more than one of his kids in the car). Jenner commented on the photo saying, "awww Scott and his kids." WOOF.
On the complete opposite end of the spectrum, Kim Kardashian's response to Scott Disick and Sofia Richie's relationship is a lot more chill than expected.
In the same episode of KUWTK, Kardashian revealed in a solo shot that she had heard about the relationship and seen pictures of the two together. She said,
I've just started to see pictures of Scott running around New York [with Sofia] and whatever makes him happy. I don't judge. I don't care. I think it's a good thing. I just hope that he's making good choices and having fun and nothing's getting crazy.
That is... surprisingly chill coming from Kim Kardashian. Something tells me Lionel Richie would have some opinions about it.