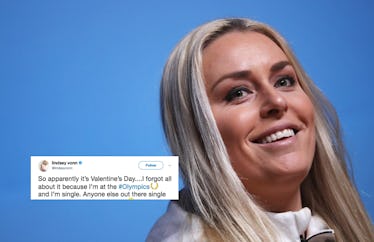 Lindsey Vonn's Tweet About Valentine's Day Is Making Everyone On Twitter Freak Out
Ker Robertson/Getty Images Sport/Getty Images
Calling all lonely hearts: Lindsey Vonn is here to make your day just a bit brighter. The 33-year-old Olympic skier is currently at the 2018 Winter Games in PyeongChang, South Korea, doing what she does best. And, being an Olympian means focusing on your performance, not on silly things like the date, so it seems that Vonn totally forgot that today is Valentine's Day. Understandable, I think. But Lindsey Vonn's tweet about Valentine's Day is setting the Twitterverse on fire, because she basically is calling on social media to help find her a special someone for the holiday.
You'd think that Vonn — a badass, beyond-talented, gorgeous and strong woman — would have zero problem finding someone to send her some roses for Valentine's Day, but Vonn took to Twitter to admit that she not only doesn't have someone to buy her chocolates, but that she literally forgot that today was even a holiday. Too busy crushing Olympic world records, I guess? (Like I said, we can't even blame her.)
In her tweet, Vonn wrote:
So apparently it's Valentine's Day....I forgot all about it because I'm at the #Olympics and I'm single. Anyone else out there single and want to be my valentine? #worthashot
Obviously, fans decided to take their shot in the hopes that Vonn would see their post and be instantly shot by Cupid's arrow. And let's be honest: Pretty much everyone volunteered, and it comes as no surprise why.
What's more attractive than an incredible athlete who just happens to be exceptionally beautiful?
There were some pretty lovely poems, hilarious and relatable gifs, and, of course, many, many photos of dogs:
(A great backup date, if you ask me.)
Some fans went all in, while other fans just tried to play it cool:
Honestly, these are all good options, Lindsey. Take your pick of the litter!
It seems like one fan in particular knew the way to Vonn's heart, though, and that was through her foundation, which, according to the website, is "giving the future women of the world the confidence to move mountaints through scholarships, education, and athletics."
The Twitter user wrote that they pledged a donation to the Lindsey Vonn Foundation for Valentine's Day:
To which Vonn herself responded, saying that the pledge was the "best gift ever"":
Much better than flowers, if I do say so myself.
Just because you (probably) won't be Vonn's Valentine, you can still watch her at the Olympics, which is almost as good. (I said good, not great.) Check out the rest of the women's alpine skiing schedule:
Friday, Feb. 16 Women's super-G
Tuesday, Feb. 20 Women's downhill
Thursday, Feb. 22 Women's alpine combined
Friday, Feb. 23 Skiing team event
If watching her master the slopes still isn't enough for you, consider following Vonn on social media, where you'll see her post badass workout photos, like this:
Or, if seeing her relax with her pup, Lucy, is more your thing, consider following her on Snapchat:
Olympians and puppies seriously just go together so well.
If you simply can't get the idea of asking Lindsey Vonn to be your Valentine, you could always hop on a flight to PyeongChang, like these guys are offering to do:
Hey, shooters gotta shoot, amirite?
(But seriously, please don't do this.)
Lindsey, whether you end up with a Valentine or not, just know that you're basically America's sweetheart, and we're all rooting for you during your time in PyeongChang. And if you're realllly out of options, just know that I'm totally free to hang tonight.
I'll bring the wine if you bring the stories of how you came to be an Olympic champion.
Sound good? Cool.
To learn more, visit teamusa.org. The Winter Olympics will air live starting February 8.