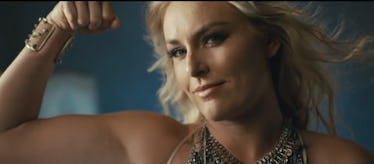 This Olympics Super Bowl Commercial About Lindsey Vonn Will Make You Tear Up
YouTube
Lindsey Vonn is ready to set the world on fire. The 33-year-old Olympic skier will represent the United States at the 2018 Winter Games in PyeongChang, South Korea. But before she does, you'll want to check out her new TV commercial set to the hit Alicia Keys song "Girl on Fire." The 60-second spot — which will air Feb. 4 — shares the athlete's powerful story, and features a bunch of cute throwback videos, as well as clips of her wipeouts, workouts, major injuries, and incredible against-all-odds comebacks. Basically, this thing is a tearjerker, you guys. Lindsey Vonn's Olympics Super Bowl commercial will legit make you cry, so be sure you have a box of tissues nearby when you watch it.
Part of the reason the commercial is so damn moving is that while Vonn famously scored both the gold medal for downhill and the bronze for super-G at the Winter Olympics in Vancouver back in 2010, she later suffered a devastating blow to her knee right before the Sochi Winter Games in 2014 and had to bow out. In the years since, she's also had to deal with torn ligaments and a broken back. But there's no stopping this fearless warrior who's now got her groove back big time, and is more than ready to take on the competition.
On the morning of Jan. 31, Vonn joined the Today Show live from Germany in order to get a look at her inspirational Olympic Super Bowl ad for the very first time. The video is not set to air until Super Bowl Sunday, but it debuted online today, so go ahead and watch it and weep.
Chills.
"It's crazy," Vonn said after taking in the footage of herself skiing as a child. "It makes me really emotional. I've been through a lot and I'm so excited for these Olympics."
Same, girl! I just know you're going to crush it!
Vonn hit the slopes for the first time when she was just 2 years old, and she's since gone on to win four World Cup overall championships. She's also one of only two female skiers to do so. She must be feeling sentimental as she gears up for what is most likely her final outing as a member of Team USA, because she recently shared her own skiing throwback on Instagram, and it's a shot from her very first Olympic Games back in 2002.
"My first Olympics at 17 in Salt Lake City vs. what will probably be my last olympics in South Korea at 33," she wrote in the caption. "How times have changed. I've been through so much since my dream came true of becoming an Olympian but all of the sacrifice, hard work and adversity have been worth it because it's made me who I am today. I'm so proud to be representing our country one more time. Let's do this Team USA!!"
We're rooting for you, LV!
Oh, and speaking of Instagram, you should definitely be following Vonn on social media if you're not already. Otherwise you'll be missing out on all the fun videos and pics she posts on Instagram of herself hitting the slopes with her dogs:
And working out with her dogs:
And just, you know, taking them out for a day of shopping:
Oh, and in case you're wondering, Vonn's dogs have their own Instagram account, so you should probably go and follow that one, too.
Ruff life, right?
By the way, Vonn's "Best of U.S." commercial is the third in a set of five. Other featured athletes include alpine skier Mikaela Shiffrin and figure skater Nathan Chen. Keep your eye out for them on Super Bowl Sunday!
To learn more, visit teamusa.org. The Winter Olympics will air live starting Feb. 8.