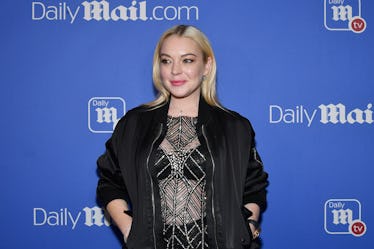 Lindsay Lohan Is Making A Comeback With A Commercial For Lawyers & It's Too Perfect
Slaven Vlasic/Getty Images Entertainment/Getty Images
If you're a child of the 90s, chances are you grew up idolizing Lindsay Lohan. From the epic revival of The Parent Trap to grown-up LiLo classics such as Confessions of a Teenage Drama Queen and Mean Girls, there is not one Lohan flick that I missed. Over the years she's found herself in some pretty questionable situations since her rise to superstardom, and it appears that now Lohan is finally starting to make the return to showbiz that we've all been waiting for. Lindsay Lohan's Lawyer.com commercial is the first sign that her comeback is imminent — and I am absolutely ready for it.
At first, I'll admit, this news of Lohan being the new spokesperson for a website called Lawyer.com didn't exactly make sense. But after I watched the ad, this is the perfect tongue-in-cheek commercial for Lohan that might be able to catapult her back into the entertainment industry. In the ad, which was posted to YouTube on March 20, Lohan references her many, many run-ins with the law from her days as a mid-aughts wild child. "When lawyer dot com first reached out to me, I was confused and a little scared because I thought I was in trouble," LiLo says in her trademark raspy voice. "But when they asked me to be their spokesperson, I was intrigued." She added that after consulting with the site's team, things made sense. She states,
Lawyer dot com is just about helping people. From getting a DUI... lets not pretend like I didn't get one. Or two... or three... or some others.
Take a peek at LiLo's commercial yourself and try not to get excited about it.
May I just say — LOL. I'm so happy to see that Lohan is able laugh about her mess-ups and run-ins with the law. And now she's using her crazy past to her advantage! If I could profit off of my mistakes I totally would, and chances are you would too. So say what you want about Lohan and her less than forgiving past, this spokesperson spot is absolutely perfect for her. I'd personally like to congratulate the production team that concocted this idea to bring in Lohan for being marketing geniuses.
If you need a quick refresher on LiLo's past, buckle your seat belts. By 2013, Lohan had been to jail six times and completed six stints in rehab as well. Her first DUI arrest in 2007, when she was just 21 years old, began the long string of attempts to clean up and get sober.
After laying low for a couple of years, Lohan slowly started to resurface and has faced a fair share of controversy. Most recently she drew fire for defending Harvey Weinstein in a now-deleted Instagram video, and was also under public scrutiny for adopting a weird foreign accent à la Madonna.
To be fair, that was really weird. I don't think anyone quite understood what Lohan was trying to accomplish there.
But no weird accents for LiLo to be found here! Lohan is speaking the way we've grown up with her speaking. And may I add that she looks absolutely glowing and healthy in this new ad? I know there's a great deal of retouching that can happen in any editing room, but some of that has got to be because she's finally gotten healthy again.
I'm really excited about what Lohan might have in store for us in the future. Maybe a Mean Girls 2 movie might happen? Or maybe she can make a cameo on Broadway in the Mean Girls musical? Can you just imagine how epic that would be? Say what you want about LiLo and her degenerate past — the tween in me will always root for the girl.