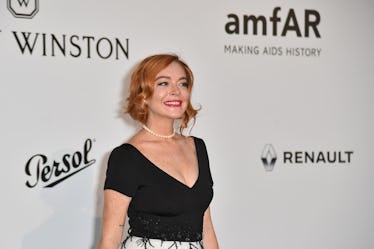 Lindsay Lohan Defends Harvey Weinstein In Deleted Instagram Video & People Are Furious
ALBERTO PIZZOLI/AFP/Getty Images
News this week has been flooded with the now infamous story of mega-Hollywood producer Harvey Weinstein and the allegations of sexual harassment that have come out against him by multiple women. It has been a long, painful week, as both male and female celebrities have commented on the allegations, including a lengthy list of A-list female celebrities who are sharing their own, personal stories about their alleged experiences with the producer. Then, a recent video of Lindsay Lohan defending Harvey Weinstein on her personal Instagram account hit the social media waves and was immediately deleted.
In response to the allegations against Weinstein, Weinstein said in a statement to The New York Times,
I appreciate the way I've behaved with colleagues in the past has caused a lot of pain, and I sincerely apologize for it. Though I'm trying to do better, I know I have a long way to go.
Lisa Bloom, Weinstein's attorney, gave a statement to the public as well. She said, Weinstein "denies many of the accusations as patently false." As for his company, The Weinstein Company removed Weinstein from his position quickly after the allegations first broke. In a statement in Variety, The Weinstein Company said,
In light of new information about misconduct by Harvey Weinstein that has emerged in the past few days, the directors of The Weinstein Company — Robert Weinstein, Lance Maerov, Richard Koenigsberg and Tarak Ben Ammar — have determined, and have informed Harvey Weinstein, that his employment with The Weinstein Company is terminated, effective immediately.
Now, it looks like Lohan's video was prompted in response to the latest news that Weinstein's wife, Georgina Chapman, is leaving him.
In the video, Lohan sheepishly opens with a wave saying, "Hi." She then goes on,
I feel very bad for Harvey Weinstein right now. I don't think it's right what's going on... I think Georgina needs to take a stand and be there for her husband. He's never harmed me or done anything wrong to me. We've done several movies together and so I think everyone needs to stop, I think it's wrong. So stand up.
Perhaps obviously, Twitter was irate following Lohan's comments, pointing out how her statements "dismiss," "negate," and "diminish" the very serious stories shared by the women alleging harassment by Weinstein.
Since the backlash, Lohan clarified her statement about Weinstein to The Daily Mail, saying,
I am saddened to hear about the allegations against my former colleague Harvey Weinstein. As someone who has lived their life in the public eye, I feel that allegations should always be made to the authorities and not played out in the media... I encourage all women who believe Harvey harmed them to report their experiences to the relevant authorities.
Included on the growing list of women who have spoken out against Weinstein are heavy Hollywood hitting actors Gwenyth Paltrow, Angelina Jolie, and Rosanne Arquette.
Paltrow told The New York Times during her time working on the movie Emma, Weinstein had suggested the two "head to the bedroom for massages."
Additionally, in an email to The New York Times, Angelina Jolie said,
I had a bad experience with Harvey Weinstein in my youth, and as a result, chose never to work with him again and warn others when they did. This behavior towards women in any field, any country is unacceptable.
Chapman announced her separation from Weinstein in a statement to People magazine, saying,
My heart breaks for all the women who have suffered tremendous pain because of these unforgivable actions. I have chosen to leave my husband. Caring for my young children is my first priority and I ask the media for privacy at this time.
After initially stating that Chapman was standing behind him, Weinstein now said in a statement to Page Six,
I support her decision, I am in counseling and perhaps, when I am better, we can rebuild. Over the last week, there has been a lot of pain for my family that I take responsibility for.
I sat down with my wife Georgina, who I love more than anything, and we discussed what was best for our family. We discussed the possibility of a separation and I encouraged her to do what was in her heart. I understand, I love her and I love our children and hopefully, when I am better, I will be in their lives again.
Lohan has yet to respond to the latest wave of backlash from her second statement.