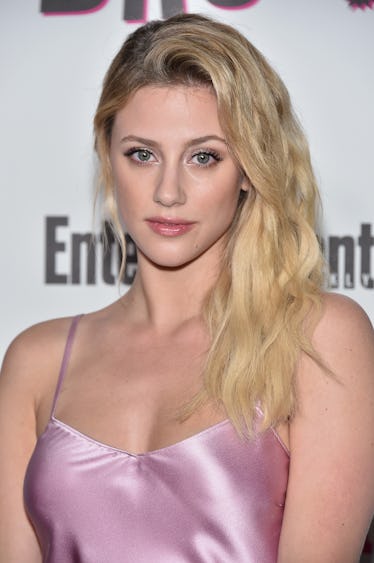 Lili Reinhart's Tweet Defending Shannon Purser From Bughead Trolls
Mike Coppola/Getty Images Entertainment/Getty Images
Lili Reinhart doesn't have time for haters, especially if they're coming for her Riverdale castmates. In a recent tweet, Reinhart gave fans a mouthful about bullying and she did it in defense of Shannon Purser, who plays Ethel Muggs on Riverdale. Apparently, Bughead fans were up in arms over a kiss Ethel and Jughead (played by Reinhart's boyfriend Cole Sprouse) shared in a recent episode of the show. And they decided to take it out on Purser. But Lili Reinhart's tweet defending Shannon Purser from Bughead fans pretty much settled the score.
Reinhart's defensive tweet came right after the Twitter account CWRiverdaleNews defended Purser first.
"Your daily reminder that bullying a cast member over a FICTIONAL ship is never ok," CWRiverdaleNews tweeted. "Please get a grip on reality."
Not long after, Reinhart quoted the tweet to add a message of her own. "Shannon is my friend, and it is embarrassing that people felt the need to attack her personally for something that happened on a SHOW. Written by WRITERS. You are not a fan of mine if you treat my friend like this."
Yikes! Those are some seriously harsh words from Reinhart. She obviously means what she says. And while that may be upsetting to some fans, it's clear that Reinhart has Purser's back 100 percent, which is really sweet and admirable.
Reinhart is clearly done with all the hate she and her Riverdale castmates get. And she's not afraid to speak out about it. This is actually not the first time Reinhart has spoken out against fans of Riverdale and their intrusive internet habits. Among Reinhart's chief complaints about being famous is that she constantly has to deal with fans' judgment.
If you haven't seen Reinhart's Tweet calling out fans, you can check it out down below:
In a recent interview with Vogue, Reinhart listed a number of things she finds frustrating about being a public figure.
"The mean comments, lack of privacy, people wanting to know everything, being in stressful situations, having to be a public speaker even when you don't feel like it, having to be 'on' 24/7," Reinhart said.
Reinhart also went on to call out trolls who spew hate at her on the internet. Apparently, Reinhard really doesn't have the patience for any of it.
"If you hate me so much, don't f**king talk about me," Reinhart told Vogue. "I don't have any sympathy for people who go online and attack people for no other reason than to get attention, or to start an army of hate against a celebrity. You need to find something better to do with your time."
Needless to say, Reinhart is totally over how invasive Riverdale fans can be. She's clearly aching for a reprieve from all the negative attention she's getting, which is understandable. And now that her friend Purser is getting hate too, it seems like Reinhart has really reached the pinnacle of frustration. Hopefully, the fans can take a step back and see Reinhart's side of things. She and her Riverdale castmates definitely deserve a break from all the negativity!