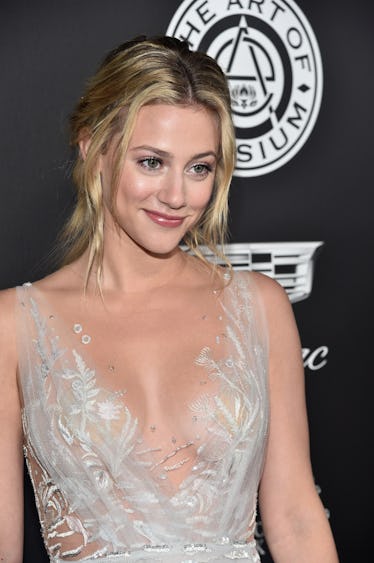 Lili Reinhart Tweeted The Cutest Thing About Jughead On 'Riverdale' & We're Swooning
Alberto E. Rodriguez/Getty Images Entertainment/Getty Images
Although Lili Reinhart and Cole Sprouse have never confirmed their possible real-life romance, Lili Reinhart just proved she's head-over-heels for Jughead Jones. The actress was tweeting during the newest episode of Riverdale that aired on Feb. 7, and fans were here for her comments. Lili Reinhart's tweets about Jughead on Riverdale were so, so sweet... and rang loud with truth.
This article contains a few spoilers from the new episode of Riverdale, proceed at your own risk. On the CW's "it" show of the moment, no relationship makes fans swoon like the one between Betty Cooper and Jughead Jones. They're opposite, yet similar, and it all mixes up into one beautiful and passionate relationship. Apparently, Lili Reinhart agrees with the Jughead obsession.
What's happening now in the Riverdale world is a lot of drama, unanswered questions, and murdering. Yeah, definitely some murdering going on. Alice Cooper and Betty's estranged brother, Chic, killed a mysterious visitor, and Betty helped dispose of the body. All these details she later revealed to Jughead.
Later in the episode, a meter maid asks about the car that's been parked in front of the Coopers' house for two days (which belongs to the guy her mom and brother just killed). It's V creepy. What's Betty to do? Use Jughead's help to hot wire the car and drive it into the river. What other option is there at this point? Through all their relationship ups and downs — I think disposing of a dead guy's car is definitely glue that will hold these two together for a little while.
Reinhart reigned Jughead as "boyfriend of the year," and we all couldn't agree more. She tweeted on Feb. 8,
Boyfriend of the year: Juggy helping his girl out. Ya know, doing illegal things, but still romantic. #Riverdale
Fans freaking swooned over this tweet. Comments like, "the best endgame anyone could ever ask for," from user @abughead, and simple "Bughead Forever" tweets were flooding in the comments.
The reason this tweet about Jughead (who is a fictional person, let me remind you) was so impactful for fans is because Bughead IRL is every Riverdale fan's dream. However, don't hold your breath for that. Even if Reinhart and Sprouse are dating, they are not eager to share it with the public. Sprouse told Entertainment Weekly in September,
Since the show began, people have wanted Lili and I to be together. People have wanted Lili and Camila to be together. People have wanted KJ and I to be together. People have wanted every actor on this show to be in a union that they could make real and talk about. So I think that kind of discussion, especially because it's based so much on rumor and hearsay, needs to be taken with a grain of salt. We're all still human lives that are interacting with the source material. But, truthfully, it's very pleasing that people talk about Lili and I in that way because it means that we're resonating so strongly from our character perspective that people really want that to be true.
As far as Reinhart's opinion on Sprouse, she (and the rest of the cast) appreciates having him around on set. During an interview with Ocean Drive, Reinhart revealed that Sprouse is a "calming energy" to have around. She said,
He really brings us down to earth if we're feeling like something we've said is being taken out of context. He's always the one to be like, 'Just ignore it. It will blow over.' It's a nice, calming energy he has because you know that he's been through it.
Whether Reinhart and Sprouse are dating for real or not, we know for sure that she has love for Jughead. Honestly, who doesn't?
Check out the entire Gen Why series and other videos on Facebook and the Bustle app across Apple TV, Roku, and Amazon Fire TV.