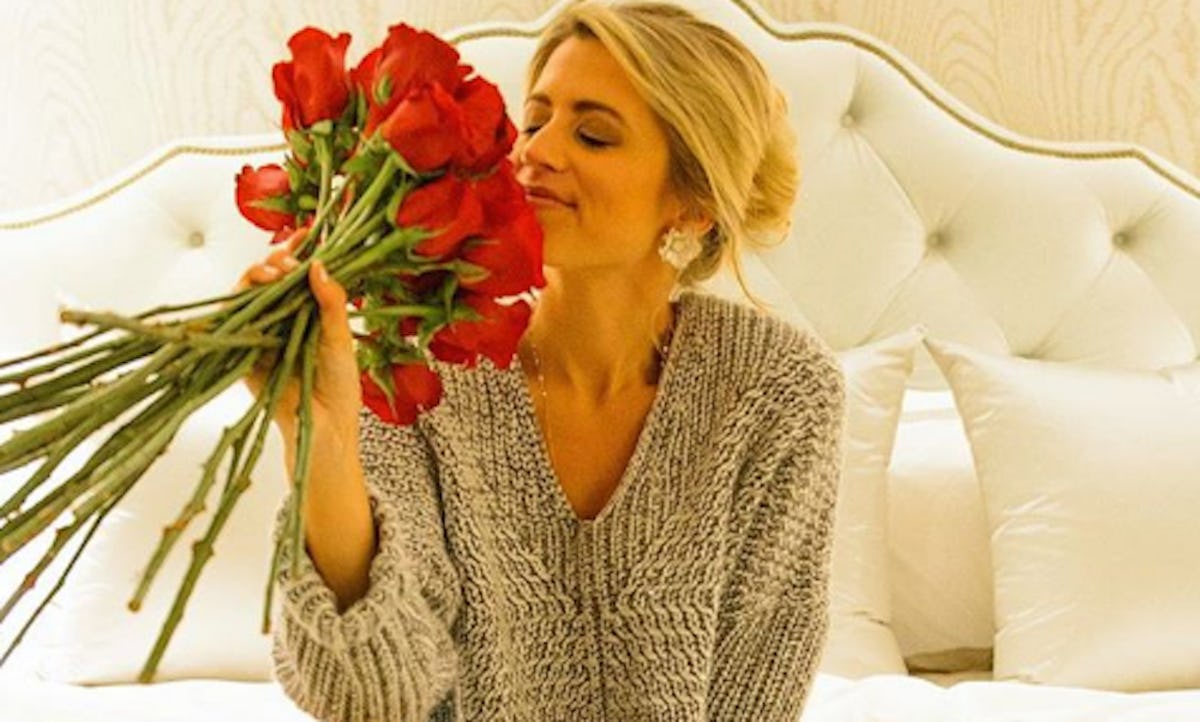 You Need To Be Following Lesley From 'Bachelor Winter Games' On Instagram
Instagram/@lesleyannemurphy
Love is definitely in the air on Bachelor Winter Games. Dean Unglert and Lesley Murphy are one of the standout couples with an enchanting romance brewing, and while we watch them fall for each other, Bachelor Nation can't help but fall for her. Lesley made her Bachelor debut on Sean Lowe's Season 17 and although she was eliminated on the show's seventh week, we're so happy she decided to return to the small screen. If you think you're a fan of hers now, just wait until you see Lesley from Bachelor Winter Games's Instagram. The cool travel blogger will inspire you, make you smile, and have you planning your next getaway.
Since Lesley's stint on The Bachelor back in 2013, the 30-year-old has stayed away from the reality TV spotlight — the former political consultant switched up her career path and went to Argentina for a year. She explains on her travel blog The Road Les Traveled,
I write, I photograph, I live on airplanes (and for better or for worse, live on airplane food), and I love discovering what makes a destination tick. I know, I know…how does a girl from Arkansas get around so much, right? It's not about where you're from. It's about where you're going and what you do when you get there.
And Lesley's social media presence definitely reflects that attitude.
The adventurous Arkansas native has been all over the globe taking fabulous pics of her jaw-dropping excursions — from sailing in Saint Kitts to meeting sea creatures in The Galapagos to frolicking among the mountains in Patagonia. Um, what's a beer spa? We want in.
Not only will Lesley's drool-worthy travel photos spark your wanderlust, they also take followers on a very personal health journey. Lesley has spoken openly about undergoing a double mastectomy last year after discovering she carried BRCA2 gene. She documented some of the surgery and the process via social media.
Lesley spoke candidly about the procedure on Winter Games, and she explained to People how she and Dean ended up connecting through her story: "We bonded over the fact that both of our moms had breast cancer and his mom unfortunately passed away. He knew about my surgery and my recent double mastectomy. He had the sweetest things to say about it. He was like, 'I commend you so much for doing that."
Dean and Lesley had clear chemistry in Tuesday's premiere of the spinoff, and the new couple took their relationship to new heights in the second episode. Sure — somethin' was blossoming, but Lesley was also vocal about how she wished that Dean would show his confidence and make a move. Dean's indecisiveness was an issue in Bachelor in Paradise, so making things right with Lesley could turn over a new relationship leaf for him. After telling him he was acting "distant," Lesley told him he needed to "man up." What followed was one of the most adorable winter wonderland dates we've ever seen in Bachelor history. "I think that you embody so much of the person that I know I need in my life," Dean admitted. And our hearts are officially melting.
The sweet sentiments don't stop there. Lesley and Dean recently revealed what they love about what another in a video for Entertainment Tonight and it's all kind of delightful. Even though Lesley didn't tune in to Paradise, she shouts out how Dean's "cute little face" caught her eye.
"If you want to talk about someone who's kind to everyone, it's her. It's kind of annoying when we go places she literally makes friends with every person we meet," Dean added.
Bachelor Winter Games continues for two more episodes next Tuesday and Thursday. If you want to feel like you're on a magical vacay without actually leaving your home while you wait to watch, Lesley's stunning social snaps should do the trick.