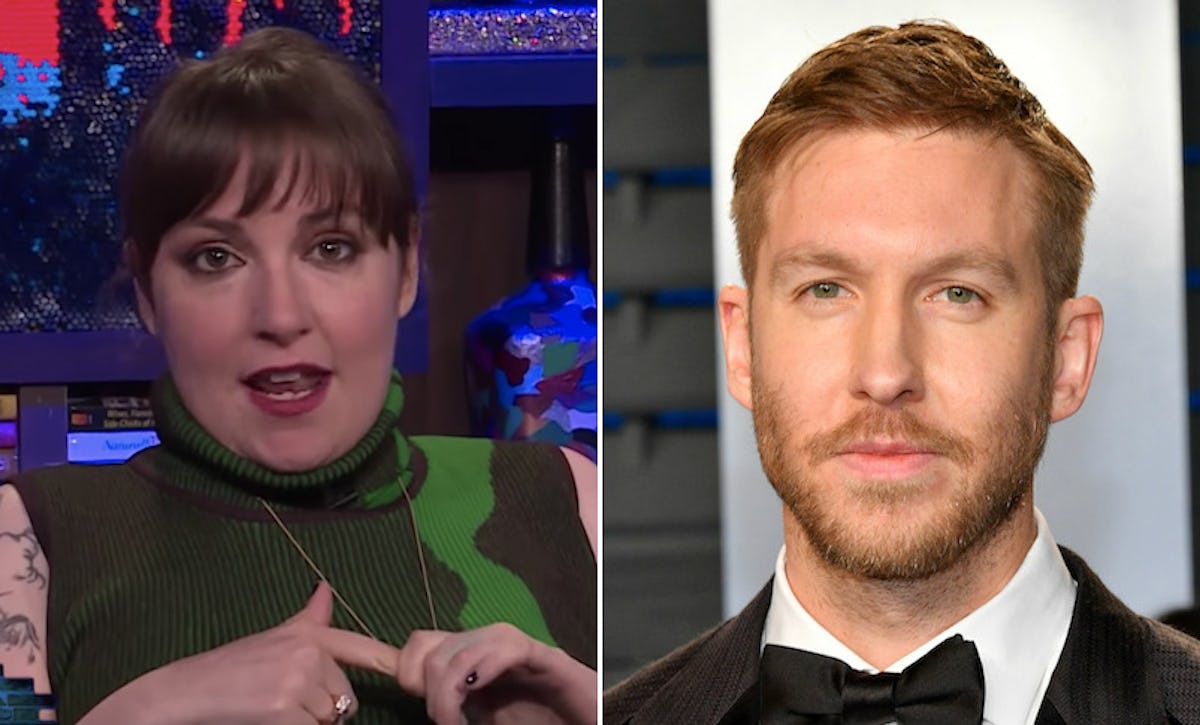 Lena Dunham Just Threw Shade At Calvin Harris Over His Relationship With Taylor Swift
YouTube & Dia Dipasupil/Getty Images Entertainment/Getty Images
Drama seems to follow certain people around. Regina George, Kanye West, and Lena Dunham are just a few examples. Dunham is, of course, the star and creator of the hit series GIRLS, which objectively pushed the boundaries on television "norms" and created a loving cast of characters many people across the globe identified with. Still, that doesn't mean everyone is going to always agree with her. For example, she just revealed who her least favorite Taylor Swift ex-boyfriend is, and her answer is, ya know, petty. To be fair, Lena Dunham's comment about Calvin Harris and his relationship with Taylor Swift makes sense when you look at the context of the situation, but still.
Dunham stopped by Watch What Happens Live! with Andy Cohen on Wednesday, Oct. 10, when host Cohen put her in his notorious "hot seat." He asked Dunham to play one of his famous games called "Plead The Fifth" in which a celeb is asked three questions and the rule is they can only plead the fifth to pass on one of them. Clearly, the game is designed to drum up drama and get celebrities to spill some tea. In Dunham's case, Cohen took things up a notch and had her close friend and GIRLS co-star Andrew Rannells ask the T-Swift question. "Lena," he said. "Who has been your least favorite of Taylor Swift's boyfriends?"
To make it even more dramatic (if you can even believe it!) Maggie Gyllenhaal was seated next to Dunham in the WWHL clubhouse, and she just happens to be the sister of Swift's ex-boyfriend, Jake Gyllenhaal. Obvi. To be honest, Dunham didn't have to think that hard to come up with her answer. "My least favorite of Taylor's boyfriends, and I wanna do right by her on this question...," she said. "My least favorite was Calvin Harris because I felt that he was petty in the public and who needs to do that?"
You can watch the whole game or scroll to minute 2:17 for the Tay-Tay moment.
TBH? Good answer. If you guys recall, Harris went on somewhat of a Twitter tirade after he and Swift broke up and it was revealed she co-wrote and was featured on his hit song, "This Is What You Came For." Harris felt it was a PR move on her part designed to make him look bad, and posted a bunch of things including the since-deleted tweet:
I know you're off tour and you need someone new to try and bury like Katy [Perry] ETC but I'm not that guy, sorry. I won't allow it. Please focus on the positive aspects of YOUR life because you've earned a great one.
He later told British GQ the rant was "completely the wrong instinct," adding, "I was protecting what I see as my one talent in the world being belittled. It felt like things were piling on top of me and that was when I snapped."
For reference, Dunham could have also named Tom Hiddleston, Harry Styles, Jake Gyllenhaal, Taylor Lautner, John Mayer, or Joe Jonas.
Sorry, Calvin. What a world.