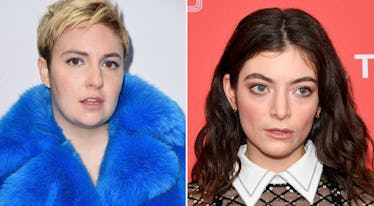 Lena Dunham Hasn't Talked To Lorde Since Her Breakup With Jack Antonoff, So That's Awk
Michael Loccisano /Dia Dipasupil / Getty Images
The Monday after a vacation can feel like something straight out of a Stephen King novel. But on this Monday after Thanksgiving, I bring you tidings of drama and heartbreak. And trust me, there's enough to keep you awake and alert until 5 p.m.. Enter: Lena Dunham and Jack Antonoff, who broke up last December after dating for five years. Shortly after their breakup went public, rumors began swirling that Antonoff had been cheating on Dunham with Lorde (a friend to both Antonoff and Dunham). And sadly, it recently came to light that Lena Dunham hasn't talked to Lorde since her breakup with Antonoff, making this strange but possible love triangle seem even more plausible. But, let's back it up a bit.
It's been almost a year since Dunham and Antonoff called it quits, and while they've both reportedly moved on (Antonoff with a model named Carlotta Kohl, and Dunham with an unnamed artist) the initial rumor that Lorde had something to do with their breakup hasn't subsided. Now, Dunham herself has addressed it. In an exclusive interview with The Cut, Dunham explained that while the breakup was mutual, it still hurt seeing those rumors make headlines. (And who could forget the infamous PowerPoint that provided some very out-there but equally realistic evidence that Antonoff cheated on Dunham with Lorde?)
The PowerPoint broke down the timeline of Dunham and Antonoff's breakup, but more importantly, outlined all the very convincing evidence that Antonoff began a relationship with Lorde before his breakup with Dunham, while they worked on Lorde's album, Melodrama, which he produced.
TLDR? Lorde essentially moved into Dunham and Antonoff's Brooklyn home while working on Melodrama with Antonoff, in his in-home studio. For much of that time, Dunham was campaigning for Hillary Clinton and was not home. Not to mention all the flirty, very relationship-y things Lorde and Antonoff have said about each other. All things considered, it makes sense that the rumors would be believable.
But in her interview with The Cut, Dunham says she doesn't think anything went down between them, but says she hasn't asked. Apparently, she hasn't spoken to Lorde in months. "I don't think anything happened between them," she told The Cut. "I can never know someone else's life. I have never spoken to Ella [Lorde] about it. We haven't talked since Jack and I broke up. It was awful, and I couldn't do anything about it except trust that what he was saying to me was true."
However, internet sleuths have flocked to the PowerPoint theory that Lorde and Antonoff were in fact getting it on while the two were working on her album. It's certainly a full-proof theory, and one that would make sense if it were true, considering how Dunham and Lorde haven't spoken since then. Awk.
As for Antonoff, he denied the rumor back in January, taking to Twitter to explain how annoying he thought the whole situation was. "Normally i would never address rumors but i resent having the most important friendships and working relationships in my life reduced to dumb hetero normative gossip," he wrote. "Those relationships are deeply important and sacred. with that said, im not seeing anyone. lol." According to Antonoff, he and Lorde have always been just friends.
For Dunham, her breakup with Antonoff might have actually been the wakeup call she needed. "Maybe my illness made me impossible to be close to, maybe my fame made me impossible to be close to," she pondered out loud to The Cut. "I'll work that stuff out in the future, but I was not operating in healthy relationship to the people closest to me." Now, Dunham is focusing on her health after her hysterectomy and several other health issues, and while she and Lorde are no longer as close, she seems to be doing just fine, despite all the (melo)drama.