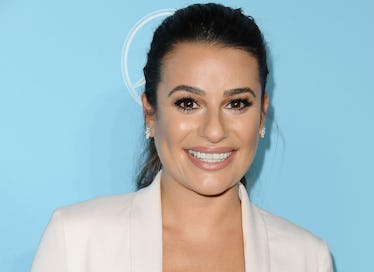 Lea Michele Talks Holiday Traditions & The New One She's Starting This Year – EXCLUSIVE
Lea Michele became a TV staple when Glee first aired almost 10 years ago. Since then, she's appeared on Scream Queens, Hulu's Dimension 404, and most recently, The Mayor on ABC. Now living and working in L.A., the only time she ever really gets to go home to see her family is during the holiday season, and Lea Michele's holiday traditions are just like yours and mine. But this year, she wants to make sure her family and all of us show our gratitude for everything we have by giving back to those in need. That's why she's partnered up with eBay For Charity and Feeding America for this year's #GivingTuesday on their campaign to help end hunger in America. Elite Daily spoke with Lea Michele about the importance of giving back this holiday season (and her time on Glee, Scream Queens, and The Mayor), and she says we too often take for granted the comfort of being able to travel home for the holidays to make extravagant meals and spend time with our families. She tells Elite Daily,
For me, I really feel it's so important during this holiday season that everyone stops and remember while we're shopping and eating lavish meals with our families that there are people that are less fortunate. So I always try around this time of year to do something that I feel is important to do.
Now, eBay For Charity is eBay's way of giving back to those in need. The platform allows everyday people to create fundraisers for the charities they care most about. According to its website, eBay for Charity has helped buyers and sellers fundraise over $725 million since its inception almost 10 years ago. Think of it as eBay's GoFundMe, where people can set up their own fundraisers at anytime during the year. This year, as part of its team up with Feeding America (the nation's largest domestic hunger relief organization), eBay will be auctioning off celebrity experiences like visiting Lea Michele on the set of The Mayor in order to raise money for the millions of Americans in desperate need of hunger relief.
Michele tells Elite Daily that her fondest memories of Thanksgiving and the holiday season in general is being on the East Coast spending time with her huge Italian family. She says,
I'm Italian, so Thanksgiving for us had a lot of the traditional turkey and stuffing, but my family's Thanksgivings were always a big Italian feast with every kind of pasta that you can imagine. It's just a big, long table with thousands of cousins and aunts and uncles running around. So I just always remember being surrounded by my family and it really just being a time for everyone to come together. Especially now that I've been living in Los Angeles working for a couple of years, [the holidays is the time] I always get to come home and see my family. We always try to remember what Thanksgiving is really about, and it is about being thankful and grateful for those that you love and have in your life. So while we're eating, we're also taking this time to be grateful for our blessings and our family. It's a lot of energy and people, but I absolutely love it.
In order to help proceeds for Feeding America this #GivingTuesday, Michele has designed a series of holiday-themed PINTRILL pins, and 100 percent of the proceeds from the pins will go straight to Feeding America.
Special celebrity experiences are up for auction as well as part of eBay and Feeding America's #GivingTuesday initiative. In addition to visiting Michele on the set of The Mayor, you can bid to win a lunch with Leighton Meester in L.A., VIP tickets to Andy Grammer's tour, and a Captain America: Civil War poster signed by the cast, to name a few. All of the proceeds will go to Feeding America.
If you don't know what #GivingTuesday is, it's a day of charity celebrated the Tuesday after every Thanksgiving, aka today. Think of it as Black Friday, Small Business Saturday, and Cyber Monday, except for charity. Its website describes the day as,
#GivingTuesday is a global day of giving fueled by the power of social media and collaboration. Celebrated on the Tuesday following Thanksgiving (in the U.S.) and the widely recognized shopping events Black Friday and Cyber Monday, #GivingTuesday kicks off the charitable season, when many focus on their holiday and end-of-year giving.
It's this end-of-year giving that Michele wants people to focus on this year. She tells Elite Daily that she wants to help consumers "shop with a purpose" by thinking of those in need during their holiday spending and planning. When it comes to her holiday traditions, she wants to make sure she and her friends and family know how much she appreciates them while reminding them how important it is to give back. She tells Elite Daily,
My whole family is on the east coast. I have a great life in Los Angeles with my friends, but for me it's so important this time of year to go home and see my family who I don't get to see that often. So we do a big family dinner together and it's so wonderful. But I will do some sort of friendsgiving just to connect with them at the same time because it is truly just about remembering all of your blessings and all of your things to be grateful for. And I am thankful for all the friends in my life as well as my family.
What else is Lea Michele thankful for? Not having to sing on TV anymore. Hard to believe coming from the star of Broadway's Spring Awakening and FOX's Glee, but it's true! Michele tells Elite Daily that her role as Valentina Barella on ABC's The Mayor is a refreshingly new challenge that fits the bill for what she was looking for in a new role. She says, "As an actor, having the opportunity now to play a role where I don't get to rely on my singing capabilities has been a challenge for me."
She adds that after Glee and Scream Queens, she was looking for a more "grounded" character that was more similar to the likes of Tina Fey and Amy Poehler characters than the women she's played in the past. She tells Elite Daily,
On Scream Queens, I played a psycho killer who was behind bars. [Scream Queens and Glee], for me, had a large element of theatricality to them which, as an actor, was very fun to play. But I was looking for a show and a character that I thought was a little bit more grounded. I was also looking for a 30-minute platform as opposed to a 60-minute, which is what I've done for the past eight years. And being a fan of women like Tina Fey and Amy Poehler and the shows that they've been on, I wanted to find something along those lines to really show off my comedic capabilities without having to rely at the same time on something like my singing.
The Mayor has proven to be one of the fall's most popular new comedies with an 83 percent approval rating on Rotten Tomatoes. And while it's vastly different from Michele's past work, she tells Elite Daily it's the exact kind of challenge she wanted. When asked how it differs from her experiences on Glee and Scream Queens, Michele says,
Each of them have their pros and cons. And despite the length of the show, it's not like one in particular is easier than the other. It's been really great to just focus on being funny and strictly on my acting, and I really love that. And I think most of all, I absolutely love this cast. They're such an incredible group of people. And to get to go to work every day, I truly have to remind myself sometimes that I am at work. I know that's not always the case with jobs — the fact that you can go in and really feel like it's so much fun. So I really do kind of pinch myself every day and just feel really grateful to be in that kind of environment.
You can catch Lea Michele on The Mayor on Tuesdays at 9:30 p.m. EST on ABC.