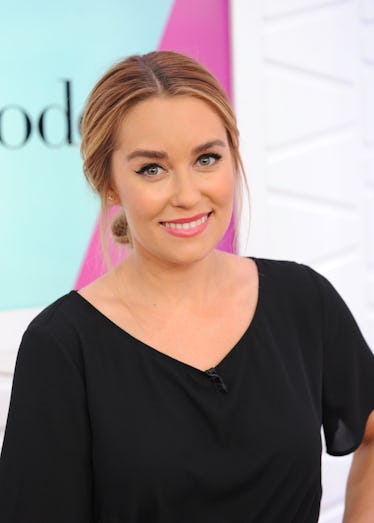 Lauren Conrad Shares The One Food She Ate While Pregnant & It's Relatable AF – EXCLUSIVE
Craig Barritt/Getty Images Entertainment/Getty Images
There are two things I love more than life: Lauren Conrad and cereal. I know, I know, it's a random combination, but let me explain. The former TV personality and fashion designer teamed up with Kellogg's to promote their new cereal cafe in New York City. Sounds like a dream, right? Right! Cereal holds a special place in the star's heart, especially because Rice Krispies was the only cereal Lauren Conrad could eat while pregnant. Yup, that's your fun fact of the day. It's relatable AF.
Conrad tells Elite Daily, "For me, Rice Krispies was actually one of the only foods I could eat when I was pregnant that didn't make me sick. Yeah, Rice Krispies with strawberries was my go-to breakfast and then my midnight snack."
Amazing choice, Lauren. My personal favorite is Frosted Flakes, but I'm always down for a bowl of Rice Krispies. I was able to meet Conrad at Kellogg's NYC Café and talk about the amazing space. What's cool about the cereal bar is that it has an "open-concept kitchen" where visitors can create their own cereal combinations or order something delicious off the menu. On top of that, the cafe has an "Insta-worthy" section where you can take selfies and pictures of your food using professional lighting and fun props. It's literally heaven for millennials. Need a cool new pic for your Insta? Then get your butt to Union Square!
Conrad explains, "It's a really fun space... it's a place to come with family and friends. I like anything with an activity." Couldn't have said it better myself! And if you're familiar with Conrad (and, ahem, her amazing Instagram aesthetic) you know she's a pro at taking the perfect shot. Although she doesn't feature much food photography on her profile, she still has some tips and tricks for taking the perfect food porn pic: "A little imperfection is nice, whether it's a little broken into or there's some spilling over, that's nice. There are some food photos that are so perfect, but they just aren't as welcoming."
According to Kellogg's website, there is a special Limited Edition Unicorn cereal available exclusively at the NYC cafe before it hits shelves on March 5. Cereal? L.C.? Unicorns? This place is literal perfection. Just take a look at the gorgeous Instagram shots:
Mouthwatering. Ugh, I'm obsessed. Conrad also opened up about life as a new mother and said the cutest thing about her baby boy, Liam. She tells Elite Daily, "His personality is starting to come out ... He's just a very sweet boy... William says he looks like me when he's up to no good. He's like 'yeah, I know that face.'" Like mother, like son. She also gushes over her husband, William Tell: "He's a wonderful partner, but he's such a fantastic dad. I feel so lucky." Family goals, seriously.
The couple welcomed their little one in July 2017. Baby Liam came in weighing 6 lbs. and 14 oz. and was 20 inches long. The first photo of him appeared on the cover of People magazine a month later and it was absolutely adorable. Just look at those big, blue eyes! I'm speechless.
Since then, baby Liam has made several appearances on L.C.'s Instagram. Conrad has posted photos of William holding Liam's head while they gaze lovingly at their little boy...
She's given an inside look at their sweet "Sunday snuggles" sesh...
She shared the most perfect holiday card of her family from "The Tells"...
...And most recently, she posted a picture of his TEENY, TINY hands for Valentine's Day!
I was right about that Instagram aesthetic, wasn't I??? LAUREN, HOW ARE YOU SO PERFECT? Thanks for the cereal and good times.