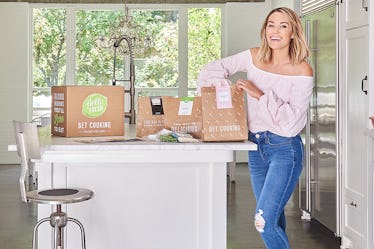 You Can Get Your LC Fix With HelloFresh If You're Sad She Won't Be On 'The Hills'
Courtesy of HelloFresh
If you spent a majority of your teenage years watching Lauren Conrad thrive in Los Angeles, then you probably know that The Hills is being revived. You're probably also aware that LC won't be on the revival. Deep breaths, everyone. I know it's a total bummer, but the reality star has been keeping busy with other projects — and you can get involved with one of them. More specifically, Conrad partnered with HelloFresh to create meals that you can have delivered to your doorstep. With that being said, Lauren Conrad's HelloFresh menu will give you the LC fix that you're going to miss once the revival airs.
According to a press release by MTV, the revival of The Hills will be called The Hills: New Beginnings — and it's expected to premiere in 2019. However, Conrad will be stealing the spotlight far before then. The fashionista-gone-foodie will have three recipes featured on HelloFresh's "Capsule Menu" in September and November 2018, and January 2019 — so get hungry. Each month will highlight a specific meal that Conrad loves, and you can check them out below:
September: Sweet-as-Honey Chicken
November: Cauliflower Stir-Fry Bowls
January: Southwestern Chicken Tacos
Thanks, LC. These meals sound freaking delicious.
According to a video posted by HelloFresh on Facebook, Conrad's inspiration behind the recipes came from the food that her family eats. Apparently, her fam' doesn't eat any dairy — and chicken's "kind of a go-to." Therefore, her HelloFresh recipes reflect that.
Thankfully, HelloFresh's website gives more details about each dish on Conrad's Capsule Menu. (I mean, I trust LC's word, but I also want to know what kind of food I'll be ordering.) According to the page, the Sweet-as-Honey Chicken is "sticky" and "sweet," and boasts flavors of ginger, soy sauce, and honey. The Cauliflower Stir-Fry Bowl, on the other hand, is a vegetarian option tossed with "tart" pineapple chunks and coated with sweet and sour sauce. Lastly, the Southwestern Chicken Tacos are made with a "southwestern spice blend" and pink radish salsa. TBH, every option sounds delicious.
According to HelloFresh's Facebook video promoting the partnership, customers can start ordering Conrad's recipes on Sept. 17. Apparently, the meals will arrive the following week. Don't wait to order, though, because the quickest customers will get a special gift. Per HelloFresh, the first 1,500 people to purchase a recipe from The Capsule Menu will receive a complimentary Little Market tote bag while supplies last. The adorable bag says "Totes My Style" on the front, and "HelloFresh" on the back. I can tote-ally see myself rocking one of 'em this winter. (Get it? "Tote-ally?" Ha...ha.)
Anyway, you still have some time before Conrad's September meal becomes available. Once it hits the HelloFresh menu on Sept. 17, you can make your order on the company's website. HelloFresh will let you choose a minimum of three meals for either two or four people. Only one of those meals will be Conrad's monthly recipe, per HelloFresh.
To find out more information about HelloFresh's meal packages, check out the company's website. There, you'll learn how to pick a meal plan, access your account, and select recipes. If you give it a go, make sure to try one of Conrad's meals from The Capsule Menu.