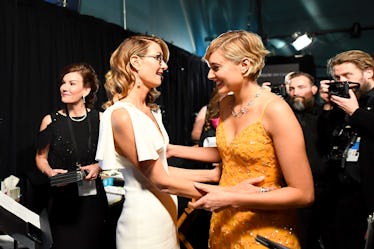 Laura Dern Is In The Talks For 'Little Women,' So Greta Gerwig Heard Your Prayers
Handout/Getty Images Entertainment/Getty Images
Every 20 years or so, a new version of Little Women comes along for a new generation. The 1930s era brought fans Katherine Hepburn as tomboy Jo March. The 1950s had Liz Taylor as the more family and feminine Amy. The 1970s featured Susan Dey (Laurie Partridge) as Jo and Eve Plumb (Jan Brady) as Beth. The 1990s were defined with Winona Ryder as rebellious Jo. Now the 2010s are getting their own version, with what's shaping up to be an A-list cast for all the March women and word Laura Dern may be in Little Women as well.
This new version for a new generation is being helmed by Academy Award nominee Greta Gerwig, and she's rounding up everyone who is everyone at the end of this decade to participate. So far casting rumors have included actresses Saoirse Ronan as a possible Jo, Emma Stone as a suggested Meg, and Florence Pugh as a probable Amy. Timothée Chalamet has been mentioned as well, and since he looks like the Laurie-ist Laurie who ever Laurie'd, it is assumed this would be the role he'd be taking, while James Norton, who has also come up, is more likely his tutor, Mr. Brooke.
Meryl Streep is also attached, though not to play Marmee, but instead the formidable and grand dame of Aunt March. Now, Laura Dern's name has been thrown into the ring. Would she be the one taking up the semi-thankless and usually rather pious role of Marmee?
The Hollywood Reporter, which broke the news this week, isn't saying. All they report is:
Greta Gerwig has lined up more A-list talent for her Little Women. Laura Dern is in talks to join Meryl Streep in Sony's adaptation of the Louisa May Alcott classic... Gerwig penned the screen adaptation of the novel. Amy Pascal will produce alongside Denise Di Novi and Robin Swicord. Andrea Giannetti will oversee the production for Columbia.
If all these actors do get lined up in these positions, it will make Little Women a bit of a Big Little Lies 2 reunion along with a Lady Bird one. (Actors Saoirse Ronan and Timothée Chalamet starred in Lady Bird, which Gerwig directed. Streep and Dern are both currently filming the follow up to HBO's hit series last year.)
This level of star power suggests Columbia Pictures is not only looking for continuing their streaks of definitive versions for each generation but awards season as well. Between the suggested principal cast and director, there are nearly 30 Academy Award nominations and an entire mess of Golden Globes.
The release date is also extremely savvy. Though the movie will be marketed as a Christmas family film, the last 10 days of the year are also considered prime Oscar bait because these are the last films voters see before the nomination voting closes. Though the Oscars haven't been kind to family-friendly fare this decade, could this be enough to change their minds?
Little Women is slated for release in theaters on Christmas Day next year, Dec. 25, 2019.