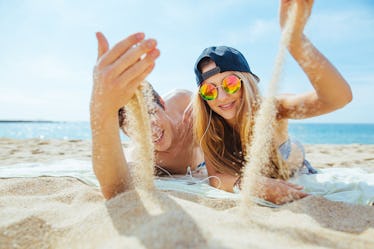 20 Captions For Your Last Summer Beach Day That'll Give You All The Feels
Loading up your car for an end of summer beach day will have you excited and sad at the same time. Where did the summer go and how can we get it back? You'll wish this final day at the beach could go in slow motion, so you can really enjoy every single moment. Luckily, pictures can make the memories last a lifetime, and you'll need last summer beach trip captions to describe all of those bittersweet vibes.
Don't let the end of summer get you down, because you can learn a lot from Mother Nature's changing seasons. You've had your fun in the sun, and now it's time to gear up for fall — but not without making one last epic splash at the beach. Make sure to whip out all of your beach gear for this last hoorah, because it should be as memorable as possible. (Your favorite pool float, sunnies, colorful umbrella, and a boom box are all invited to this outing.)
The summer sun is going to fade, but you can scroll through your old pics to recall those days when you were living your best life by the sea. There's always next year, so try not to dwell too hard on saying goodbye during your final beach bum session. You've got the cooler, towels, and your swimsuit, but you can't forget to stow these 20 captions in your trunk.
1. "This isn't goodbye. This is a sea you later." — Unknown
2. "I've got to make these last-minute sandy toes count." — Unknown
3. "At the beach, my summer is still loading." — Unknown
4. "This last beach trip will make me want to stay here forever." — Unknown
5. "Well, its been real." — Ocean
6. "Already missing the sand between my toes." — Unknown
7. "From sun up to sun down — that's what a last beach trip looks like." — Unknown
8. "Let summer go without a bang? Beach, please." — Unknown
9. "Last beach trip, but I refuse to be salty about it." — Unknown
10. "Mother Nature, can't I just take the ocean home this one time?" — Unknown
11. "The sun is setting on my final day of the beach." — Unknown
12. "Summer's ending, but I can't be sad. I mean, look at this view I'm dealing with." — Unknown
13. "Dear beach, this is not the end." — Unknown
14. "Summer is a state of mind and my thoughts are focused on the beach." — Unknown
15. "It's always summer somewhere." — Lilly Pulitzer
16. "Never not in that summer state of mind." — Unknown
17. "Eternal summer." — Unknown
18. "The beach is a promise that there will be brighter days again." — Unknown
19. "It was so easy to say hello to the beach this summer and, really hard to say goodbye." — Unknown
20. "I'll never forget summer, so it's only logical to spend the last days of the season at the beach." — Unknown
Run along the shoreline until you get tired, and let the salty breeze hit your skin. Milk this last beach day like you never have before.