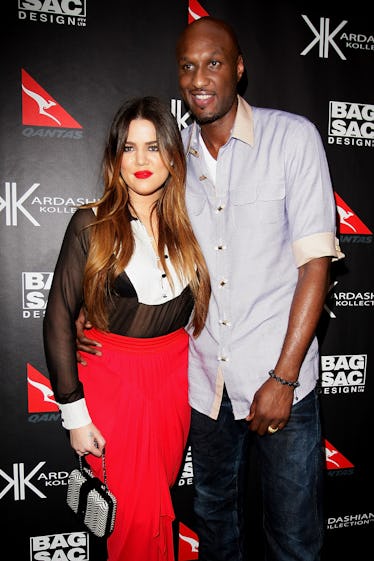 Lamar Odom Has Reportedly Broken His Silence On Tristan Thompson's Cheating Report
Lisa Maree Williams/Getty Images Entertainment/Getty Images
Poor Khloé Kardashian. The Keeping Up With The Kardashians star was probably hauled up in her Cleveland home waiting to give birth to her first child — a little girl! — when she found out her baby daddy, boyfriend Tristan Thompson, was reportedly out cheating on her with another woman. WTH, Tristan? You were supposed to be one of the good ones. I feel so betrayed! KoKo has already been down the cheating road before with her ex. Speaking of which, Lamar Odom's reaction to Khloé and Tristan's cheating allegations shows he still feels terrible about stepping out on Kardashian during the couple's eight-year relationship. And, like, duh, he totally should.
"Lamar feels terrible for Khloé," a source told People. "He wasn't sure if he should reach out and see how she's doing. He feels for her." Elite Daily reached out to Odom and Kardashian's teams for comment on the report but did not hear back by the time of publication.
Is it nice that he feels bad? Sure. Do I think he should actually reach out to Kardashian? No. Like, a thousand times no. My girl's got enough on her plate right now without having to worry about fielding calls from her ex-husband. I mean, can't a mama-to-be just wait for her daughter's arrival in peace?
In case you forgot, Kardashian and Odom tied the knot on Sept. 27, 2009. Things seemed pretty good for a while — the two of them even scored their own spinoff show on E!. But the marriage began to fall apart in 2013, after the former basketball player was arrested for a DUI and rumors about his cheating began to surface.
"Love is blind," Kardashian old Howard Stern in January 2016. "Lamar was so great at making me feel like I was the only one and I'm this princess. So I didn't know about cheating … until before the DUI."
Ugh, the whole thing was just so sad. Kardashian ended up filing for divorce in December 2013, but nothing was finalized until three years later, because Odom almost died after he overdosed in a Vegas brothel in October 2015. Kardashian took care of him during his long recovery, then eventually went ahead with the divorce, which finally became official in September 2016.
After Kardashian confirmed that she and Tristan Thompson were expecting a baby via an Instagram post on Dec. 20, 2017, Lamar shared his well wishes during an interview with BET's Mancave show. "I'm happy for her," he said. "She took care of me. She'll be a good mother, for real. She's a great woman."
It's a sweet sentiment, right? If only he'd stopped there. But he didn't. Instead, Odom went and threw some shade Kardashian's way while talking about the tattoo he still has in her honor, and the way he came to terms with the fact that his marriage was over.
"I still got my shawty's name still on me, her initials still on me," he explained. "But for no reason. You know what I'm saying? I understand when it's over, it's over. When she was with her second or third NBA ball player, I could see that."
Not cool, Lamar. Luckily, Kim Kardashian West had her little sister's back, and wasted no time rolling up on Twitter to put her ex-brother-in-law in his place.
I'm devastated that Kardashian is going through all this again, but I'm so glad she has such a tight-knit fam to take care of her. I can't even imagine what this must feel like. My heart goes out to her and her little baby girl. Take all the time you need to heal, Khlo. In the meantime, I'll be over here sending blessed vibes your way.