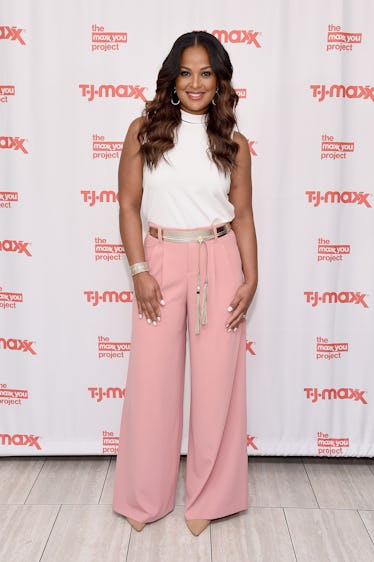 Laila Ali Doesn't Want To Be A Trend Follower, So She's Helping Women Celebrate Individuality — EXCLUSIVE
Ilya S. Savenok/Getty Images Entertainment/Getty Images
Laila Ali wears many hats. She's a mother, a wife, an author, a four-time undefeated boxing champion, and of course, the daughter of the legendary boxer Muhammad Ali. But on top of all that, she's also an advocate for encouraging and empowering women in all walks of life. Laila Ali teamed up with T.J.Maxx for the second annual Maxx You Project, an initiative that helps women embrace their individuality.
"I like to stand up for others, even when they don't stand up for themselves," she tells Elite Daily. "I'm like the good bully. Even if it has nothing to do with me, I'm gonna get in it — my husband can't stand it."
Ali's partnership with T.J.Maxx's initiative feels especially natural, since hse admits she was never a fan of conforming to anyone's standards — even as a child. "I was trying to 'fit out' if that makes sense," she says. "'Cause I was like, 'I'm cool, I'm different.' I'm even like that now because I don't want to be a trend follower."
However, in a survey conducted by T.J.Maxx, over half of all the women surveyed said they "hold back who they really are just to succeed in society." While that number may be shocking initially, it's a feeling many women are all too familiar with.
The good news is that 75 percent of women surveyed also said that, when they see others being true to themselves, they're inspired to do the same. To help continue this trend, The Maxx You Project will be hosting a series of workshops across America to encourage women to celebrate their individuality together. Ali herself will be hosting the first in Los Angeles on July 28, 2018, and she hopes the women who attend will leave having a new, more positive outlook on life. "I think that this is a good starting point to have women in a room together — that's the whole idea," the mother-of-two explains. "That's the point of having power in community — getting together, starting a conversation, so you start being aware of things that we need to work on."
And while the initiative is focused on liberating women, Ali still believes men have an important role to play when it comes to evening out the playing fields for all genders. "We need men to be be champions for us," she asserts. "Because a lot of these women are in a workplace where they feel like they have to filter themselves — you know, we've heard those terms 'dumb themselves down' … because it makes somebody else feel bad, and you shouldn't have to do that."
T.J.Maxx will hold subsequent Maxx You workshops in Atlanta and New York, hosted by Mattie James and a surprise guest, respectively.
As for Ali, outside of just The Maxx You Project, she also encourages women to empower themselves by thinking about health from a holistic standpoint. Essentially, this means that wellness also includes everything from feeling grounded to balancing stress levels and even to controlling the type of people you keep in your circle — not just "how much kale you eat," she jokes.
If you'd like to take part in this year's workshops, you can visit maxxyouproject.com, or join The Maxx You Project's Facebook page, where you can meet other like-minded women who are ready to make a positive change in their lives by celebrating who they are.