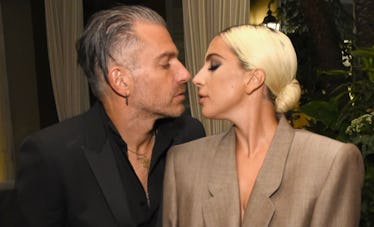 Lady Gaga Confirmed Her Engagement To Christian Carino, So Love Still Exists
Michael Kovac/Getty Images Entertainment/Getty Images
I know that recent news in the celebrity world has been a little weird lately (looking at you, Pete and Ariana). But fortunately, we have Lady Gaga to make things finally feel just a bit better. Her relationship with talent agent Christian Carino has always been pretty low-key... until now! That's because Lady Gaga confirmed her engagement to Christian Carino in a speech for the whole world to hear, and now I'm totally feeling the love.
According to People magazine, 32-year-old Lady Gaga was an honoree at Elle's 25th Annual Women in Hollywood Celebration at the Four Seasons Hotel Los Angeles on Monday, Oct. 15. While speaking at the event, she thanked Carino — which is, of course, adorable — but it was what she referred to him as that confirmed that the pair is engaged.
"Thank you to all the loved ones in my life," the A Star is Born actress started her speech, per Us Weekly. "Bobby [Campbell, her manager], I love you. My fiancé, Christian. All the loved ones in my life who take care of me every day. And Ryan Murphy, thanks for giving me my first leading role [in American Horror Story: Hotel]. You know that Golden Globe belongs to you."
DID YOU HEAR THAT, GUYS?
Her fiancé! We've finally got confirmation on their relationship status, and it came from Lady Gaga herself!
No, Lady Gaga. Applauses for you.
There has been speculation surrounding the relationship between Gaga and the 49-year-old talent agent for the Creative Artists Agency (CAA), with many wondering whether they've been hiding an engagement. News of their relationship first went public after they were seen together at the Super Bowl both before and after Lady Gaga's halftime performance.
A source at that time revealed that the two were already very serious by the time of the Super Bowl. According to Us Weekly, the source said, "They are actually pretty serious. They're both really happy. It works."
From what it sounds like, the pair are pretty damn happy together and it seems that Lady Gaga is very happy with her low-key relationship. People reported earlier this month that an inside source said, "Christian is a good, grounding force and understands her career. She's in a great place now."
I just have to come out and say it: GAGA I AM SO HAPPY FOR YOU.
Despite the fact that, for the most part, these two have remained incredibly quiet about their relationship, Gaga did briefly speak about her relationship with Carino in August 2017 when she was on her Joanne World Tour in New York. It was a rainy day while performing at Citi Field in New York City on Aug. 29, but Gaga performed anyway. At some point during her performance, she revealed that Carino went backstage in between songs to go ensure that she was safe and sound. (My heart, you guys!)
She said, "When I went backstage, Christian was by the stairs making sure I was okay," the New York Post's Page Six reported at the time. "The best part about being in love with someone is having them there to catch you if you fall."
Even though there's been ~gossip~ about their possible engagement since November 2017, it's now officially official, and I for one couldn't be happier. A big congrats to Gaga and Christian!