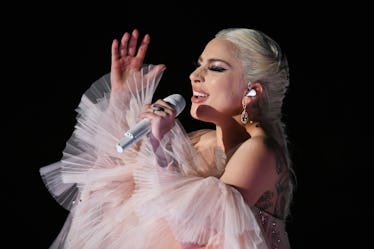 Lady Gaga Made A Surprise Appearance At The MTV Movie & TV Awards & Fans Lost It
Kevin Winter/Getty Images Entertainment/Getty Images
The MTV Movie & TV Awards are always super fun to watch, but they're even more fun when there's a surprise celeb appearance that nobody expected — and at this year's show a major unannounced guest had the audience screaming. Lady Gaga attended the 2018 MTV Movie & TV Awards, and fans could not contain their excitement when the diva graced the stage with her presence. Can you blame them?
Before the night-of, nobody expected for Gaga to make a cameo during the night's show — but when she did, her "little monsters" totally lost it as she came up to announce this year's "Best Movie" winner. Though she took the stage as a presenter, she'd also just taken the award in the "Best Documentary" category for her Netflix film Gaga: Five Foot Two — her first MTV Movie & TV Award nomination (and subsequent win). Gaga even joked about fooling everyone with her win in her short speech when she said, "I just have one problem. I recently found out I'm actually 5 foot 3 and 3/4. I'm so, so sorry." Ugh, I seriously cannot love this woman more.
It was a pretty big night for Gaga all around. But honestly, even if she wasn't nominated or had anything to do with the MTV awards, whenever she shows up anywhere, she's always guaranteed to create a fan and media frenzy. The MTV Movie & TV Awards were no exception, as fans totally lost control when Gaga came onstage — and the tweets that followed Gaga's entrance proves just how much star power this woman has.
This appearance was major for a number of reasons. Gaga has been a bit under the radar lately, at least in terms of big red carpet appearances and performances. Earlier this year in February 2018, the superstar announced that she was cutting the European leg of her "Joanne" world tour short due to "severe pain," according to TIME. The singer posted to her Instagram saying that "She is extremely sorry and deeply saddened that she cannot perform for her European fans, who have waited so patiently." In April 2018 Gaga did perform at Madison Square Garden for Elton John's I'm Still Standing Grammy tribute special, where she sang her rendition of his classic tune "Your Song." But other than that special performance, she's been laying low — presumably due to the pain she suffers from fibromyalgia.
Lady Gaga has been battling fibromyalgia for quite some time, and she discussed her experience with the chronic illness in her documentary. In September 2017 Gaga also cancelled her headlining set at the Rock In Rio festival in Brazil, reportedly due to the pain she was experiencing from the disorder as well, so her struggle with fibromyalgia is very much ongoing.
Despite the pain that she's been trying to combat, Gaga has so much to celebrate right now. Aside from her win tonight, she will be making her debut on the silver screen in the upcoming film A Star Is Born, which is one of the most highly anticipated films of the year. The film is Bradley Cooper's directorial debut, and he stars alongside Gaga as well — so this movie is a seriously big deal. The first trailer dropped on June 6, and it looks amazing.
Maybe at next year's MTV awards, Gaga will be receiving a new golden popcorn trophy for her performance in the upcoming film. So the future is looking super bright for Gaga. And her "little monsters" will always be there to cheer her on every step of the way.