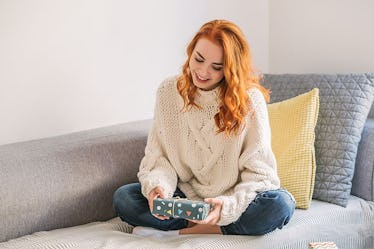 These Body-Positive Sweaters Are The Perfect Way To Spread Self-Love This Holiday Season
Body positivity is something that should be practiced the whole year through, and I genuinely believe our generation is doing everything in its power to become a more accepting, all-inclusive society. However, there's still plenty of progress to be made, and what better way to promote the cause than with a catchy slogan embroidered on your shirt? Just in time for the holiday season, Label's body positive sweaters are here to offer us the chance to give the gift of self-love and shed light on the fact that every body is beautiful.
According to the organization's "About" page, Label Press was founded by Jo Boon in 2015 and originated as a publication devoted to exposing diversity in its rawest, most beautiful form. Expanding into body positive fashion shows in April of 2016, the organization blossomed into a platform that represents and explores gender, sexuality, and mental and physical health, with a focus on what it means to have an identity. Label Press is a paper magazine, digital media hub, events company, and, now, an accessory and clothing line.
Teasing three pieces of the brand's new, sustainable, comfy sweater collection, with messages like, "There is no wrong way to have a body," and, "You don't need abs to be fab," the brand has already left us wanting more. Luckily, the rest of the line is set to launch sometime in December of 2017, and will also include underwear (because every part of us needs some loving, don't you think?).
"Label is about breaking down barriers, wiping away unwanted labels, and allowing people to choose whatever label they may want for themselves," Boon told Yahoo! Lifestyle. "It's an awful thing, but unfortunately most people are uncomfortable with some aspect of their appearance, and that's what we want to change."
And for those struggling, it can be especially difficult to stay body positive around the holidays.
"No wrong way to have a body" Jumper, $45, Label
The truth is, when you consider the all-too-similar body types that are often represented on the runway, in magazines, and on social media, appreciating your body for what it is, is easier said than done.
As someone who's gone through the struggles of an eating disorder, those of us dealing with body image dysmorphia, disordered eating habits, or even just that one annoying family member who always manages to slip in a comment about how much you're eating at the dinner table, the holiday season can be especially trying. But blunt statements aren't the only factors causing us to unjustly criticize ourselves after a meal.
2017 is coming to a close, which means new year resolutions are on the brain. Fitness goals and eating habits are not only discussed over turkey and stuffing, friends. Pushes for that new you for the new year are everywhere, but it's kind of hard to stay body positive and upbeat when holidays like Thanksgiving and Christmas are known for gigantic feasts and ignorant family members who insist on making rude and unsolicited comments.
Despite all of this, there are still ways to stay body positive through the holiday season. You may not be able to dodge grandpa's annual analysis of your "impressive appetite" and "how much you've grown" (pumpkin pie isn't going to eat itself, you know), but being more mindful in the moment, and allowing yourself this indulgence can help to combat the toxic criticisms. After all, these savory meals only come around once a year, and you deserve to enjoy them to the fullest, without judgment from anyone else — or yourself, for that matter.
Gifting Label's body positive sweaters is a unique way to spread a little self-love this holiday season.
"Self love is a radical act" Jumper, $45, Label
The holiday season really is the most wonderful time of the year, because it reminds us to be grateful for and share affection with loved ones. However, it's easy to fall short in the self-love category when the holidays tend to focus so much on food and family.
Personally, I think the fact that these sweaters are labeled "comfy" is pretty symbolic. We all want and deserve to be comfortable in our bodies, and Boon's genius idea to marry a sense of coziness with body image — something that is often still an uncomfortable subject for many people — couldn't be more on point.
So, while the latest electronics and beauty palettes are always crowd-pleasers, go the more personal route and gift your friends (or yourself) a little love and a lot of positivity this holiday season with any of Label's comfy, body-positive sweaters. We could all use a little extra self-esteem, don't you think?