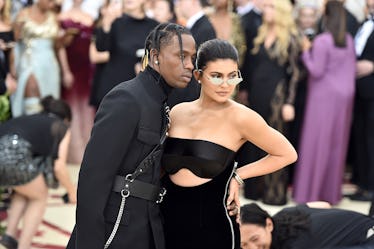 Fans Are Convinced Kylie Jenner & Travis Scott Are Married Because Of This Instagram Post
Theo Wargo/Getty Images Entertainment/Getty Images
With so many celebrities sparking marriage rumors lately, it's natural for fans to wonder about people like Kylie Jenner as well. Not only has she been with Travis Scott for over a year, but they also have a child together. So, fans are curious if and when Scott will put a ring on it. But Kylie Jenner's Instagram calling Travis Scott "hubby" may be a hint that he already has. Elite Daily reached out to Jenner's team for comment on this, but has not heard back by the time of publication.
Married or not, Jenner is making her love for Scott well known. She took to Instagram on Monday, Oct. 15 to share a glimpse of a gift Scott gave her. In the video posted to her Instagram, Jenner pans over to a huge floral display that's to die for.
Jenner captioned the post with, "just because flowers are the best kind😫😫😍 thank u hubby." And that "hubby" mention is what's making fans take pause.
One fan took to the comments section to ask the question on everyone's mind. "Hubby?? Married & we don't know it yet ?!?!?" they wrote.
Another fan speculated about the state of the relationship. "He calls her wifey, I think they're already married just saying," the fan wrote.
So, what's the deal? Are they married? Is Jenner just calling him "hubby" for the heck of it? While neither Jenner nor Scott has confirmed that they're married, they might as well be. They seem totally committed to each other already.
This is what Jenner posted on Instagram on Oct. 15:
But that wasn't the first time Jenner called Scott her "hubby." She did it last week, on Oct. 7, as well. In an Instagram Story, Jenner shared a video of Scott performing on Saturday Night Live. She captioned the video with, "hubby 😍😍😍."
And that Insta post came mere weeks after a source told Entertainment Tonight that Jenner and Scott reportedly envisioned marriage in their future. According to the source, Jenner and Scott, who welcomed their daughter Stormi in February 2018, have been discussing marriage. But, the source claims they definitely want to take things slowly for now.
"Kylie and Travis have been inseparable lately, and their love for Stormi just seems to bring them closer every day," the source said in an Aug. 24 report.
"When Kris [Jenner] sees Kylie and Travis together, she's convinced they're on the right path," the source revealed. "At first she worried about Kylie starting a family so young because she felt she had no say. Kris knows Kylie does what Kylie wants, so Kris just had to hope for the best."
So, it seems Jenner and Scott are as devoted as ever. And maybe that means that marriage will come sooner than everyone thinks! No matter when they tie the knot, though, it's clear that they love each other more than anything. In the meantime, Scott and Jenner are happy to share their sweet family life on Instagram and elsewhere. And the fans are definitely eating it up. What a cute little family they make.