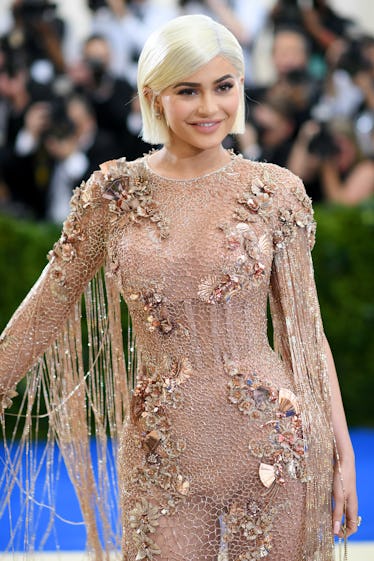 Kylie Jenner Put Together A Gender Reveal For Her Friends & The Video Is So, So Cute
Dimitrios Kambouris/Getty Images Entertainment/Getty Images
For all you Kardashian fans who are hoping — nay, PRAYING — for some happy news to come from your favorite family amidst the chaos, I have some good news for you, and it comes in the form of Kylie Jenner. (From the bottom of my cold, cold heart, thank you Kylie.) It turns out that she's not just an awesome mom, but an expert event coordinator, and Kylie Jenner's gender reveal for Austin McBroom and Catherine Paiz is actually the cutest thing you'll see all day.
If you didn't know Jenner's friends Austin McBroom and Catherine Paiz, they are two social media stars each with millions of fans on Instagram, so obviously they're doing something right. And it turns out that Kylie is pals with both of them, so when they planned a gender reveal for their second child, Jenner got in on the action, too, and helped organize the whole thing with the soon-to-be parents of two.
In McBroom's video that was uploaded to Instagram, you see McBroom and Paiz with confetti poppers (which pop pink or blue streamers, depending on the sex of the baby), and Jenner standing in between them. Then, Kylie runs offscreen and begins conducting the countdown. So suspenseful!
But then, the countdown is completed, the confetti poppers are popped, and an explosion of pink streamers appear so... IT'S A GIRL!
Then, McBroom tells everyone that he knew it was a girl (for the record, this will be their second daughter), and he was crying tears of joy, despite hoping for a boy. Jenner runs up to him, puts her arms around him, yelling, "God's plan!" and then gives him a hug (probably because he will be outnumbered in his household three to one).
Honestly, the video almost too cute to watch (but seriously, watch it anyway, if only to see Jenner in a crisp, white tracksuit):
I needed something light-hearted and happy, and this video definitely lifted my spirits.
Kylie, you have made me proud.
And it's SO wonderful to hear that Kylie and Travis Scott are doing incredibly well together with their daughter, Stormi. A source told E! News on April 7 that the couple's relationship is stronger than ever and that they have built an "unbreakable bond":
Kylie Jenner and Travis Scott are currently in the best place they have ever been in their relationship. Things really came full circle once Stormi was born and they now have an unbreakable bond. Travis has been fully accepted into the family and everyone is in love with their little family they created.
Life goals right there, people.
The source continued, saying that "Travis has been helping a lot with Stormi and is obsessed with her," adding, "He helps a lot at night and makes sure Kylie is getting enough sleep, and likes to spoil Kylie with gifts so she knows she is still important."
Be still my heart.
We know just how much Jenner loves little Stormi, especially because she's always posting the sweetest photos of the two of them on social media:
But I looove hearing that Travis Scott is just as over-the-moon as Kylie is. In February, a source told E! News that he "can't get enough" of his daughter, too. The source said,
He [Travis] can't get enough and wants to just hold her [Stormi] and stare at her. It's still surreal for him that they created this [child]. He's working a lot but [is] spending time with Kylie and Stormi whenever he isn't. He misses them so much when he's gone and wants to make sure he doesn't miss anything.
Thank you, Travis, for being so supportive of Kylie. What a (mighty, mighty) good man.