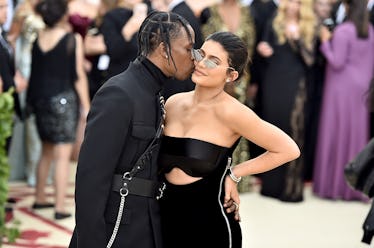 Kylie Jenner & Travis Scott's 'Daddy' & 'Wifey' Christmas Gifts Are Relationship Goals
Theo Wargo/Getty Images Entertainment/Getty Images
Just days after a YouTube star admitted that he was the brains behind fake photos that appeared to show Travis Scott cheating on girlfriend Kylie Jenner, the makeup mogul was back on Instagram on Friday, Dec. 7 to show that all's well in paradise. Since the photos surfaced, it's been a rollercoaster of emotions for fans who've been stanning the couple, and I was relieved (and also a little angry, TBH, because who does that?) when Christian Adam revealed on Dec. 5 that he'd staged the images for a "social experiment." Ugh. Well, luckily it looks like the Keeping Up with the Kardashians star is taking things in stride, because Kylie Jenner's Christmas presents to Travis Scott dedicated to "Daddy" and "Wifey" show that they're stronger than ever (and also continuing to toy with us about their marital status).
On Friday, Dec. 7, the lip kit maven headed to her Instagram Stories to post — and then delete — a video that shows things are back to normal in the Jenner-Scott household. Fan accounts captured the clip, captioned, "First two gifts under the tree," which show Jenner zooming in to two gold parcels under her Christmas tree. The cutest part about the whole thing — you know, other than the fact that the parents-of-one are obviously planning on spending Christmas morning unwrapping presents together — are the name tags inscribed with the couple's nicknames for each other. One present reads "Wifey," while another one reads "Daddy," and TBH, it's definitely relationship goals.
The 21-year-old quickly deleted the Instagram Story video before sharing a few other posts, including one of her rocking baby Stormi while twinning in gray sweat pants. Considering that her relationship has been the subject of much public scrutiny over the past week, I don't blame her for wanting to limit how much of her personal life she shares with the public.
On Wednesday, Dec. 5, Jenner broke her silence and addressed the photo hoax on her Instagram Story, saying she was "scared" by the incident.
"Idk if this is really a social experiment to some people but you're messing with real people, real relationships, real family," she wrote, before quickly deleting the post. "I'm happy my relationship is strong because this is getting out of hand. The internet scares me sometimes for real."
Days earlier, her rapper beau slammed the rumors, commenting "Only got love for my wife. No time to be wasting. Try again," on an Instagram re-post of the viral image.
On Monday, he also took to his Instagram Story to address the controversy. "Trolls always wanna create some fake s*** to destroy real love," he wrote. "GOING OVER BOARD TO MAKE S*** LOOK LIKE IS NOT IS EVIL."
He continued, "I hate acknowledging s***. But quit try to take joy from s*** that's good. I pray god blocks out all evil."
Her sisters also weighed in on the "disgusting" story, with Kim Kardashian tweeting, "I hate that I am bringing attention to this but this is absolutely disgusting that you would find this funny to mess with Travis & Kylie who just started a family together."
Meanwhile, Khloé chimed in, "People are absolutely disgusting! The mind games this would do to somebody… That is so completely not OK! This person should be so ashamed of themselves! What filth."
Luckily, it looks like the couple is moving on from the incident and focusing on what's important, like their first Christmas with baby Stormi and keeping us guessing with those engagement rumors.