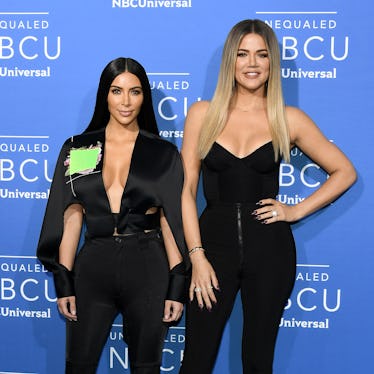 Kim & Khloé K's Reactions To Rumors Travis Scott Cheated On Kylie Jenner Are So Supportive
Dia Dipasupil/Getty Images Entertainment/Getty Images
I love me a good prank. Especially one that involves the Kardashian fam. Remember that time when Khloé threw some paint on a bunch of canvases, and then convinced Mama Kris — with the help of Scott Disick — that they were actually paintings made by an up-and-coming (but totally made up) artist named Art Vandalay? Hilarious! But things weren't quite so funny earlier this week when a fake photo of Kylie Jenner's man with another woman surfaced. And Kim and Khloé Kardashian's reactions to rumors Travis Scott cheated, and to the pranksters who started those rumors, are exactly as epic and supportive as you'd think they'd be. Because sisters.
But before I get to that, let's rewind for a sec. Back to Monday, Dec. 3, when a photo first started circulating on Instagram of someone who looked a lot like Scott canoodling with an unidentified female on a balcony. (I really miss the word "canoodling," by the way, and I think it may be time to bring it back.) The shot was totally grainy, but it maybe, kinda, sorta looked like it might have been the "SICKO MODE" singer. It wasn't, though. The whole thing was actually a prank conjured up by YouTuber Christian Adam, who explained via another Instagram post that he wanted to "see how gullible the internet is."
"This video was NOT made with the intent to ruin somebody's relationship or family," he captioned the Insta video, which revealed how the fake photo was created.
This seems like a lot of effort for some kind of social experiment, and I totally blame those guys who made that viral vid of a fake Justin Bieber eating a burrito from the middle (#blasphemy).
Anyway, after Adam came forward to reveal that the photo wasn't real, Khloé and Kim went off on social media.
"I hate that I am bringing attention to this but this is absolutely disgusting that you would find this funny to mess with Travis & Kylie who just started a family together," Kim tweeted. "This is really damaging to relationships, families and is just so wrong!"
Preach, Kim!
Khloé — who is no stranger to being blindsided by seeing pics of her man with another woman online — also had a lot to say.
"People are absolutely disgusting!" she tweeted. "The mind games this would do to somebody… That is so completely not OK! This person should be so ashamed of themselves! What filth."
Re-freaking-tweet!
As for Kylie, the reality star posted a message about the fake photo drama on her Instagram Story.
"Idk if this is really a social experiment to some people but you're messing with real people, real relationships, real family," she wrote. "I'm happy my relationship is strong because this is getting out of hand. The internet scares me sometimes for real."
Same, girl.
Meanwhile, despite the negative reaction from the Kar-Jenners, Adam apparently isn't backing down.
"When I created that video I made it with a message," he told InTouch. "I stand by that. When I took that photo and put it out there, I NEVER once said it was Travis Scott. The picture was originally posted with NO caption. The world spun it and said it was him. Let me ask this: Are the Kardashians really mad at me? Or mad at the HUGE media outlets for picking up a story and running with it saying it's Travis Scott?"
Pretty sure they're mad at you, dude.