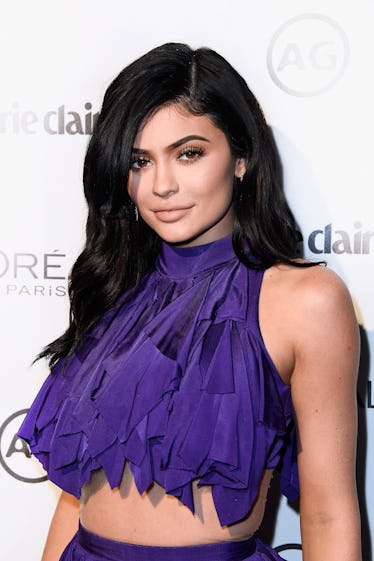 Here's What It's Really Like To Be An Assistant To A Kardashian/Jenner
Frazer Harrison/Getty Images Entertainment/Getty Images
I have spent countless hours wondering how dope it would be to land a gig as a personal assistant to a celebrity. Like, do you cop your own room in the tricked-out mansion along with a hefty wardrobe allowance? Are you the perennial plus-one with a standing invitation to fly private? Do you have to hold your boss' hair back when they drink too much, and then whip up Huevos Rancheros the next morning? While we may never get to know all the gory details, we do know a little bit about what it's like to be Kylie Jenner's assistant thanks to a video on the beauty mogul's app called Being Kylie's Assistant With Victoria.
Victoria is Victoria Villarroel Gamero, the 25-year-old raven-haired beauty who's been KyKy's personal assistant since 2015, right around the time her Lip Kit line first launched. Talk about a dream job — I mean, hello free Kyshadow palettes!
Of course, Gamero had been working for the Jenner fam long before Kylie's set of plumped-up lips even became a thing — five years to be exact. "I started working at Kris' company, Jenner Communications, and I would see Kylie there all the time because it was her mom's office," she explains in the clip.
At first, Victoria said she was only in charge of "house stuff" like taking care of all the groceries and the cars. But after gaining Kylie's trust, she slid into the bestie zone and then took on the task of making sure the reality star's personal needs were met 24/7.
You know, like that time she hopped out of Jenner's Mercedes SUV to swiftly but carefully position a stool on the ground so the Lip Kit queen could gracefully exit her ride.
That is some serious #PAGoals right there. Feel free to hit me up me, Tori — can I call you Tori? — if you're ever in the market for a new employer.
Of course, Kylie returned the favor big time this past December when she helped plan Victoria's engagement.
So yeah, it looks like this job comes with some pretty major perks. The duo even played a game of Never Have I Ever around Christmastime with Kylie's other BFF Jordyn Woods for a video on the Kylie Cosmetics YouTube channel. The trio sat around drinking cups of not beer, but tea — another clue that Kylie is preggers? —while admitting to all sorts of teenage girl shenanigans like cheating, lying, hitting up strip clubs, and doing the walk of shame.
Is it just me, or does Kylie pretty much seem like the coolest boss ever? Of course, the youngest of all the Kardashian-Jenner siblings isn't the first one to let her assistant into the inner circle (cirKle?). Let's not forget about Kim's former assistant, Steph Shepherd, who began working with Keeks in 2013 and quickly became part of the family.
Not only did Shepherd help plan Kim's wedding to Kanye and provide stroller assistance for a baby North, but she was the one tasked with escorting KKW home after the infamous Paris incident, as well as for letting her fan base know our girl was OK, but taking some much-needed time off.
TBH, I'm kind of jealous of her penmanship.
But at the end of the day, you know what they say about no good deed going unpunished. And so it wasn't long after Steph was promoted to COO of Kardashian West Brands and she started to become a bona fide internet celeb in her own right with almost 1 million followers on Instagram, that Kim decided to cut her loose.
Luckily, a quick check of Victoria's Insta reveals the PA only has around 300K followers, so hopefully she'll stick around for awhile. We're rooting for you and that stool, girl!