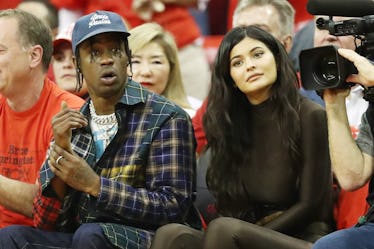 What Kylie Jenner & Travis Scott Reportedly Just Bought Is A Big Step In Their Relationship
Ronald Martinez/Getty Images Entertainment/Getty Images
It's a pretty good day to be Stormi Webster. I mean, her parents just reportedly dropped a whole bunch of coin on some pretty baller property, which means there's gonna be more room for the young family to play. Yup, Kylie Jenner and Travis Scott bought a mansion together, according to reports, and it's a pretty big step for these guys, so you know their love is real whether they ever decide to actually put a ring on it or not. Elite Daily reached out to Jenner's team for confirmation of the report, but did not hear back by the time of publication.
According to TMZ, the couple recently dropped $13.45 million on a home in Beverly Hills. I know, I know — chump change. And the Kylie Lip Kit queen and rapper are reportedly joint tenants of the pricey property, which means they are seemingly co-owners who most likely split the purchase cost.
You wanna know what the new crib looks like now, don't you? Well, prepare to get jelly because this thing is luxe AF. TMZ is reporting that the manse has a 2,300 square foot master bedroom, plus lots of other perks like a multi-car garage, a gym, and a massage room. I mean, can you even call yourself a Kar-Jenner if you don't have a massage room? That's a question only Mama Kris can answer, but I'm gonna go ahead and say probably not.
Meanwhile, this may be the first house Jenner and Scott have actually purchased together, but it's not the first time the pair has shacked up. Back in August, the Keeping Up With The Kardashians star told Vogue Australia that she spends every night with Stormi's dad, thank you very much.
"I'm actually scrolling through Instagram right now, and it says that me and Travis don't live together, and so I just want to say that we never miss a night with each other," she explained. "We go back and forth from my Calabasas house and the city home that we actually got together."
Sounds sweet but also kind of exhausting, you know? All that shuffling back and forth has got to wear you down at some point. I bet they're happy they can finally settle down in the 90210 with their happy little fam of three!
I mean, did you see the recent pics of the three of them pumpkin picking? The trio rolled up to the Underwood Family Farms in the San Fernando Valley on Oct. 24 to check out the animals, meander through a corn maze, and pick out some pumpkins, according to TMZ.
Look at this shot Jenner posted on her Instagram of Stormi just casually hanging out with, like, hundreds of pumpkins:
"First pumpkin patch," Jenner captioned the image of her little girl decked out in a t-shirt from the highly-coveted, limited edition Supreme x Louis Vuitton collab.
Sidebar: Is it wrong to be jealous of an 8-month-old? Asking for a friend.
The makeup mogul also added several other pics from the outing to her Insta story, including this one of her holding Stormi nose-to-nose:
And this one of Scott giving her a VIP view of the corn maze from a perch upon his shoulders:
Honestly, I could look at these snaps all day and I can't thank Jenner enough for sharing them with us. Hopefully we can get some images their new digs soon. But in the meantime, keep those adorable seasonal pics comin', mama!