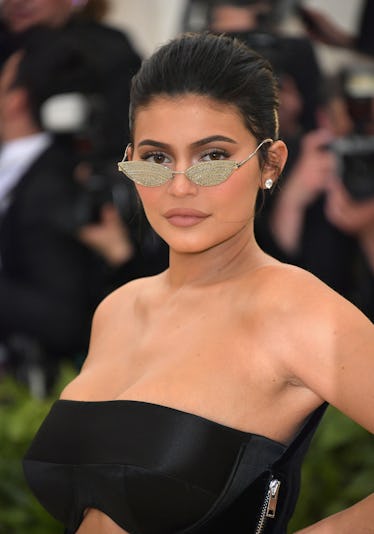 Kylie Jenner Sent A Fan A Super Expensive Birthday Present & It's Casual
Neilson Barnard/Getty Images Entertainment/Getty Images
If you thought your friends were the most extra, think again. The youngest Jenner may have millions of admirers across the globe, but Kylie Jenner got a Louis Vuitton bag for a fan, and it's worth a pretty penny. I'm shook.
On May 19, Kylie Jenner "superfan" Johnny Cyrus took to Instagram to share a photo of him gawking over a gorgeous Louis Vuitton backpack, along with a heartfelt message thanking Jenner for the super thoughtful birthday present. According to Harper's Bazaar, the gift's price tag is around $2,000. It's casual. However, judging from Cyrus' Instagram page, I'd say he might be the makeup guru's biggest fan in existence. So, maybe he deserves the over-the-top present.
Not only does he have a tattoo of Jenner's Lip Kit swatches on his arm, but he also has other Kylie-themed tats on other parts of his body. But wait, there's more. All over Cyrus' Instagram there's numerous photos of him posing with Jenner at meet and greets and Kylie pop up events. I don't think I've ever met someone so devoted to a celebrity.
I have to admit, I'm pretty impressed. Not only is Cyrus' dedication to Jenner incredible, but it's nice to see that the young entrepreneur really knows how to treat her fans. Excuse me, but where do I sign up to be a Kylie Jenner superfan? Are applications open?
Safe to say that the Kardashians Jenners definitely knows how to give a quality present, especially when it comes to birthday. In April, Jenner rented out the entire Six Flags theme park to celebrate her boyfriend, Travis Scott's, 26th birthday. The day was filled with roller coaster rides and tons of family love. I don't know about y'all, but I still have FOMO.
Presents are nice and all, but it's really the little moments in life that matter the most. I wouldn't be surprised if Jenner had a new found appreciation for acts of kindness since she gave birth to her daughter, Stormi Webster, in February. We all suspected for months that the youngest Jenner was expecting, but nothing was confirmed until she announced Stormi's arrival on Feb. 4 via Instagram.
She wrote,
I'm sorry for keeping you in the dark through all the assumptions. I understand you're used to me bringing you on all my journeys. My pregnancy was one I chose not to do in front of the world. I knew for myself I needed to prepare for this role of a lifetime in the most positive, stress free, and healthy way I knew how. There was no gotcha moment, no big paid reveal I had planned. I knew my baby would feel every stress and every emotion so I chose to do it this way for my little life and our happiness. Pregnancy has been the most beautiful, empowering, and life changing experience I've had in my entire life and I'm actually going to miss it. I appreciate my friends and especially my family for helping me make this special moment as private as we could. My beautiful and healthy baby girl arrived February 1st and I just couldn't wait to share this blessing. I've never felt love and happiness like this I could burst! Thank you for understanding.
Jenner announcing that she had given birth was truly the most exciting moment of 2018. Even though we were kept in agonizing suspense up until the news broke, I have to say it was well worth the wait.
I may not have tattoos all over my body, but let's admit it, we're all huge fans of Jenner. Not only is she a makeup connoisseur, she's proving day after day that she's also a super devoted and caring mother.
I'm so proud of you Kylie. Also, feel free to send me a designer bag anytime.