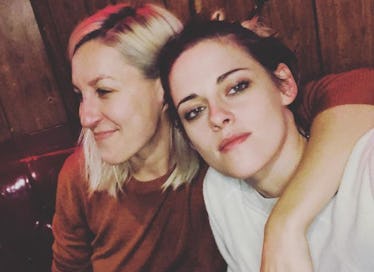 Kristen Stewart & Dylan Meyer's Relationship Is Honestly Quarantine Goals
From her long-term relationship with Robert Pattinson to her reported on-again, off-again situation with model Stella Maxwell, Kristen Stewart's dating life has certainly been anything but boring. These days, she seems to have embarked on a meaningful new chapter with a certain screenwriter. In fact, Stewart just crossed the one-year milestone with her new girlfriend, and they seem to be thriving in every sense of the word. If you're just catching up on Kristen Stewart and Dylan Meyer's relationship timeline, you're in for a wild ride — their romance has been quite a whirlwind so far, and they show no signs of slowing things down.
Indeed, Stewart is notorious for being somewhat private when it comes to her love life. In an October 2020 interview with InStyle, she revealed that she's long felt uncomfortable about having her relationships scrutinized by the media. Stewart, who now identifies as bisexual, also added that things became even more complicated after she openly referred to herself as gay on Saturday Night Live because she felt an added pressure for her to act as a spokesperson for the LGBTQ community.
"Even in my previous relationships, which were straight, we did everything we could to not be photographed doing things — things that would become not ours," she explained. "I think the added pressure of representing a group of people, of representing queerness, wasn't something I understood then. Only now can I see it."
It seems that after meeting Meyer, however, their love blossomed into something she couldn't possibly hide from the world if she tried. And that's fortunate for fans and stans — because their relationship is pretty darn adorable. Here's how this Hollywood romance played out from the beginning.